Review of RIVUE Restaurant-Great Parent's Night Out in Downtown Louisville, KY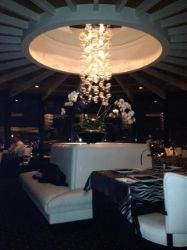 Looking for something a little more special and romantic for your next date night? How about RIVUE Restaurant on the top of the Galt House in downtown Louisville?
Recently, my husband and I celebrated a night out without the kids by getting a little bit more dressed up than normal, and heading to the top of downtown. RIVUE is on the top floor of the Galt House and has two rotating dining areas where you can view the Ohio River and downtown waterfront areas. We enjoyed the changing views, the atmosphere, the food was delicious, and the service was great. We decided to try their $99 for two menu, and were not disappointed. My husband ordered an extra side dish because he thought for sure our "especially priced meals" would be especially small. But he was pleasantly surprised to see he had more food than he could eat, and shouldn't have ordered the extra dish. There was a dessert to split included with our $99 deal, and my husband was once again pleasantly surprised by how much he enjoyed the dessert I chose! There is also a complimentary dessert snack cart to end your meal on a sweet note of your choice!
Some things I appreciated at RIVUE were the free valet parking, the live piano player who played requests, and the comfortable dining crowd from families in jeans to couples dressed up and celebrating special occasions. It cost more than our usual date night, but we really enjoyed the modern, romantic decor, and the beautiful views. It was a perfect place for a date night, and we look forward to heading back!
(Things to be wary of…the Galt House sits right next to the Yum Center, so watch out for rush hour traffic and big Yum event start/end times. I have also heard there is a possibility the 2 rotating dining areas can be totally reserved. If you're going to pay extra for an extra special meal, make sure you call ahead and reserve a table in one of the rotating areas, or it may not feel worth it).
By guest contributor: Caryn