Review of Canoe Rental at The Parklands of Floyds Fork in Louisville, KY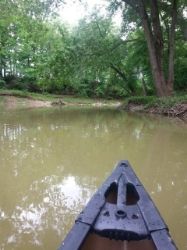 My family loves getting outside and enjoying nature. We go to The Parklands often, so we were thrilled to hear they'd found a company to handle their canoe rentals. So over Memorial Day weekend we gave them a call and headed their way.
They were insanely busy. The parking lot was packed and we had to wait an hour and a half to get a canoe. That was fine, because it gave us a chance to take the kids to the playground for a bit before setting off. I'm also glad the demand is so high because it means this company isn't likely to be going anywhere any time soon.
I've been canoeing in the Parklands before, and it is really the perfect spot for beginners and families. The water is calm and not too deep, and it's clean and peaceful. There's wildlife and places to stop and look at fossils.
My kids had never been canoeing before, so we opted for the one hour two mile trip. It takes off at the rental booth and ends at the interpretive center near the playground and sprayground area. It was a beautiful trip with only one difficult spot to get through, and even my youngest, who said there was no way he was getting in a canoe, ended up loving it.
Everything about our experience was great, except for the price. It cost nearly $70 for my family of four to canoe for an hour. The canoe rental alone is on the high side of what I consider reasonable at $35 for a tandem canoe for a 2 mile trip up to $71 for the 10.7 mile trip. There are lots of other types of vessels to choose from, each with its own rate per trip. But then they added two snap-in seats for my kids at $15 apiece, taking us up to $65 plus tax. They included paddles and life vests at no additional charge, which was great since I didn't want to take wet life jackets home with me. However, even with those freebies, this is not an accessible activity for most families, especially when you consider you can take your own canoe (or a borrowed one) for free.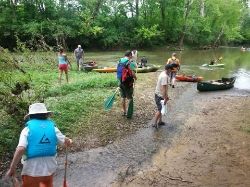 I respectfully request that Green Earth Outdoors stops charging for the extra seat rentals. This would make it an activity that more families could afford to do more often. Currently, canoe rentals are available Wednesday, Saturday, and Sunday during the summer. Canoeing is a great way to experience The Parklands from a different perspective.
By guest contributor: Maggie