Review and Comparison of Holiday World (Santa Claus, IN) vs. Kentucky Kingdom in Louisville, KY
This post is "old" so current prices may be different than what is noted below

After being closed for 5 years, Kentucky Kingdom has reopened its gates! My family and I recently spent one day at Kentucky Kingdom, followed by one day at Holiday World. Below is basic information comparing the two parks.
Location
• Kentucky Kingdom is located in Louisville, Kentucky.
• Holiday World is located in Santa Claus, Indiana. It's a little over an hour drive down I-64 West (take exit 63).
Parking
• Parking for Kentucky Kingdom is located at the Kentucky Fair & Expo Center and costs $8. There is an area for drop-off/pick-up off Phillips Lane. (New in 2015: parking free for season pass holders)
• Parking for Holiday World is FREE!
Admission Cost (2014 info – check website for changes year to year)

Kentucky Kingdom
Adults $44.95*
Under 48 inches $34.95
Seniors (55+) $34.95
Children 2 & under Free
Military & First Responders can get discounted tickets (Max 4 tickets with proper ID)
*Check Kentucky Kingdom's website to get general admission adult tickets for $39.95
Holiday World
Adults $44.95*
Under 55 inches $34.95
Seniors (60+) $34.95
Children 2 & under Free
Military & First Responders can get discounted tickets with proper ID
*Check Holiday World's website to get general admission adult tickets for $39.95.
Food Options
• Kentucky Kingdom has two restaurants that allow you to go inside to sit down and eat- Casa Mia Pizza and Swampwater Jack's. There are several food stands located throughout the park if you are looking for a quick snack or a sweet treat. There are two $1 drink stations where you can purchase 32 oz. drinks for $1 (with season pass). If you don't have a season pass you can get a $1 refill, but you have to purchase a Kentucky Kingdom sports bottle first.
• Holiday World had a few more restaurants options and a few more food stands throughout the park. They also have a section on their map/guide that tells you where you can purchase allergen friendly food. They had Pepsi Oasis stations located throughout the park where you can get unlimited soft drinks. The cups are small, but you can get as many as you want.
Changing Facilities/Lockers
• Kentucky Kingdom has two changing rooms located near Hurricane Bay. They are rather small. There is a locker area located near each changing room, and also one near the front of the park.
• Holiday World also has lockers near the front of the park and at the entrance to Splashin' Safari. Holiday World had a lot more lockers than Kentucky Kingdom. They had bathroom/changing rooms throughout the water area. The changing room we used was very clean and bright. The restrooms were towards the back of the changing areas, and they too were clean.

Water Park
• Hurricane Bay doubled in size this year! Some of the new features are the Family Wave Lagoon (new wave pool), Adventure River (a faster lazy river), Buccaneer Beach (interactive water play elements and slides for the little ones), and several new water slides. There were plenty of lounge chairs available when we went, or you can rent a cabana (also new this year). Don't worry if you forgot your sunscreen, they have several stations with free sunscreen throughout the park. I felt like there was plenty to do for all ages. The smaller kids will enjoy the family wave pool and spray areas with smaller slides, while the bigger kids and adults will enjoy the Big Surf (original wave pool) and all the new water slides. If you're feeling brave you can try Deep Water Dive, which is the region's tallest water slide with a 12 story drop!
• Splashin' Safari also has two wave pools, a lazy river, splash areas for kids, and several different water slides. They also had free sunscreen available throughout the park. Splashin' Safari seemed a little larger to me, but that may have been because it was more spread out than Hurricane Bay. They were very crowded, and only a few chairs were left that didn't have towels on them. I would recommend getting there early to get a spot.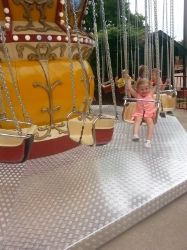 Rides!
• When my family and I go we usually stay in King Louie's Playland. It's towards the front of the park, and the short walk is nice on those really hot days. Inside this children's area are 12 rides, four of which are new. My daughters are 3 and 1 ½ years old, and really enjoy this area! This area is usually not too busy. There have been many times when we stay on a ride two or three times because there is no one else in line when the ride's over. The longest we have waited for a ride is a few minutes. There are several benches to sit on and 2 "King" chairs that the kids flock to. There are a few other rides outside this area that smaller children can ride on as well. Kentucky Kingdom has 2 roller coasters, including the new Lightning Run. Besides the roller coaster there are about 12 other rides that are geared towards older kids and adults.
New in 2015 – 8 additional rides! Read more here.
• Holiday World is divided into holiday sections with several theme related rides in each section. The Christmas area and Holidog's Fun Town each had six rides for smaller children. There were a few rides in each of the other sections (Halloween, 4th of July, Thanksgiving) that my 3 year old could ride, but not many that my 15 month old could ride. I felt like Holiday World had more rides for older kids and adults, including 4 roller coasters! We did enjoy the Raging Rapids water ride (Kentucky Kingdom has a similar ride opening next year) and Frightful Falls (which is a smaller version of Kentucky Kingdom's Mile High Falls). Holiday World was very busy, even though it was a weekday. Some rides had a wait of over an hour. The rides in the Christmas and Holidog area didn't have much of a wait, and my children really enjoyed them.
New in 2015: Holiday World has a new coaster – click here for info.
My family and I enjoyed both parks! Both were similar in price. We thought the staff at both was friendly. Both parks were clean, but Holiday World's bathrooms and changing rooms were cleaner. Both offered free sun-screen! Holiday World offers free soft drinks and has a few more options dining wise. Kentucky Kingdom was not nearly as crowded and had shorter lines. Holiday World has more rides for older kids and adults, and Kentucky Kingdom has more for smaller children. I did feel like Holiday World had more families in attendance, whereas Kentucky Kingdom had more teenagers walking around. I think a lot of people are using the drop-off area to save the $8 for parking and not going to the park as a family. We didn't see anyone being loud or rude, but did see several police officers walking around throughout the park. Holiday World had more of a park-like feel with larger trees and grassy areas. I know Kentucky Kingdom is working hard on their landscape this year, and hopefully it will have that same feel in the future. I always hear or read that Holiday World is #1 for family fun, and I would have to agree.
By guest contributor: Kimberly