Review of Pearl Street Treats in Jeffersonville, Indiana
Back in late summer, my family and I headed downtown to the Big 4 Bridge to walk over to Jeffersonville, Indiana for the first time! It was so much fun! We had visited the Big 4 Bridge several times over the past year or so since it opened to Louisville, and were so excited to be able to do the full walk together as a family. We had actually spent the entire evening downtown that day enjoying a Louisville Bats baseball game and walking around the waterfront.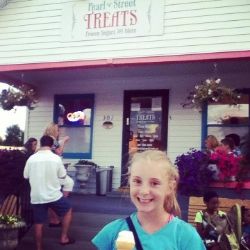 We ventured over the bridge into Jeffersonville in the early evening hours and as we walked down the ramp on the Indiana side, we ran almost right into the cutest little eatery, Pearl Street Treats. A cute flower lined front porch greeted us as we walked up the steps inside. It was pretty crowded in the tiny little store which features a handful of flavors of self-serve frozen yogurt. It was pretty typical of your frozen yogurt shops with the toppings bar, but also serves drinks and gourmet chips. The price is $.50 per ounce for the yogurt. My daughter said to her it was different because it was the closest froyo she has had that tastes more like ice cream, which she liked. They also carry homemade treats for dogs! The shop serves itself very well with its location at the bottom of the ramp! It seems that the owner of this local shop is going to have her hands full now that the bridge is fully functional!
Pearl Street Treats is located at 301 Pearl Street / 812-288-8850
Hours: Tuesday-Thursday 11am-9pm
Friday-Saturday 10am-10pm
Sunday 1pm-9pm
Closed Mondays
By guest contributor: Erin