The New Outlet Shoppes of the Bluegrass – Now Open in Simpsonville, KY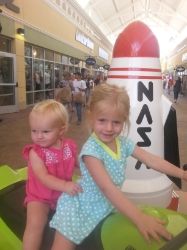 Get ready to shop til' you drop! The Outlet Shoppes of the Bluegrass are finally open. A quick 20 minute drive from Louisville down I-64 (exit 28) will take you to this wonderful addition to Shelby County. I, along with about 10,000 other people, ventured out to shop on opening day.
I didn't have any trouble with traffic and finding a parking spot was easy too. The parking lot design is nice because no matter where you park you don't have to walk a crazy distance to get to the stores. When I first got there I went straight to customer service, which is located in the food court area, to get a coupon book. They normally cost $5, but are free for AAA members. With my coupons in tow I was able to shop, shop, shop! I went in many of the shops (didn't have time to go in all 90!) and was surprised at how few people were in each one. There were a few stores though, such as Coach, which had a line outside.
Everyone working seemed excited and happy to be there. A few stores gave out balloons, Frisbees, chocolate, windmills, etc. My three year old was all about the free gifts! There were also opening day specials and sales going on, which I was all about! I really liked how Carters, OshKosh B'gosh, and Gymboree were all next to each other. These stores were also close to a few of the mechanical trucks, cars, busses similar to the ones that you find at the mall. I let my daughters play on them for a few minutes, and then we did some more shopping. There were a few more of the mechanical vehicles throughout the outlet. The layout of the outlet is really nice because it's a giant circle. It's also covered in many areas so the sun wasn't beating down on us, and if it rained you could still shop.
When I was done shopping it was time to eat. We went to the food court to feed our bellies. They have a Chicken Now, China Max, Little Italy, and Taqueria Tsunami http://www.taqueriatsunami.com/menu (more of a sit down restaurant with waiters). We went with Chicken Now, and everyone enjoyed it. After we ate my daughters played in the indoor play area. It was similar to one you would find at Chick-fil-a or McDonalds. I was expecting an outdoor play area similar to the one they have at The Paddock or Oxmoor Mall, but was a little disappointed when we learned they didn't have one. It's really not a place to go just to entertain the kids.
Overall, it was a great shopping day. We found some good deals and enjoyed walking around taking in the sights and sounds. We will definitely be back….often!
By guest contributor: Kimberly