A Local Hobby with Kids – Retro Record Player and Record Shops in Louisville, KY
Sometimes amid a flurry of video games and Netflix, you find yourself wanting to introduce your kids to a little alternative culture. There are so many options out there for families seeking a change of pace every once in a while. For my family, that change of pace has come in the form of a vintage 1978 Fisher Price record player.
We are regular attendees of the Flea Off Market, so we were thrilled to hear about the BBFlea in St. Matthews, which was basically an encore of the regular once a month event. The first booth we stepped into contained the record player. I picked it up and immediately purchased it without hesitation for maybe $20. I had been thinking about getting a record player for myself anyway, and I knew the kids would love having one of their own.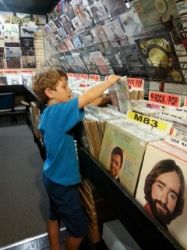 We picked up three records that day- Beach Boys Party, Sesame Street Signs, and a story record. When we got home several hours later, we discovered the needle on the record player was bad. I tweeted out a distress call and my Twitter friends responded almost immediately that I should take it to Magnetic Tape Recorder in Irish Hill. I took it that Monday morning and they fixed it while I waited for $30.
When the kids got home from summer camp that evening, we sat in their room listening to records. I taught them how to handle the records, how to use the record player, and the importance of being careful with the needle. As we sat listening to the Beach Boys and talking about music, my 5 year old son told me, "Mom, I think this is good for you, too. You can stop by any time." My heart melted.
For the rest of the summer, every time we had a day off we would hit the record shops. Several of the shops we visited also had used books and comic books, so we've expanded our horizons to include those as well. The range of musical genres we've collected includes Caribbean steel drum music, show tunes, big band, jazz, classical, and lots of rock n roll. My kids really enjoy going into record shops and flipping through the albums, and I enjoy being able to teach them to appreciate many different kinds of music.
Here's a list of a few places in Louisville to find records:
Book and Music Exchange
Better Days
Highland Records
Half Price Books
Guestroom Records
By guest contributor: Maggie