Events and Things to Do in and around Louisville for Halloween 2014 -Indoor Options too!
CLICK FOR Halloween Events 2016
This is a partially sponsored post.
Sponsored by: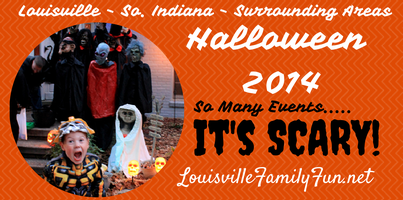 Like us on Facebook!
In chronological order and constantly updated so check back often. Past events for early October have been deleted to make it easier to read for upcoming events.
World's Largest Halloween Party is at the Louisville Zoo – various dates – tickets are on sale now! Even members wanting to attend on discounted nights have to reserve tickets. It runs pretty much the entire month of October and is the place to be for family fun in Louisville this time of year.
KY Renaissance Fair is having a month-long pumpkin (insert Oprah voice) extravaganza. It's October 4- Novemeber 2 (that's how they spelled it, I'm being cheeky) on Fridays, Saturdays and Sundays only.
Jack O' Lantern Spectacular – 5,000 pumpkins light a trail the length of five football fields at the base of Iroquois Park October 9 -November 2.
Open from dusk to 11 p.m., Sunday through Thursday, and until midnight on Friday and Saturday nights. Tickets range from $9 to $15, with discounts for seniors and children 12 and under. Ticket info online at www.jackolanternlouisville.com. Unlimited season passes to the event will be available for $40 and discounts are available at the Box Office when using your Thorntons Refreshing Rewards Card. The event is held rain or shine.
Mary T. Meagher has old school fright night movies on the lawn at the Mary. T. Meagher Aquatic Center throughout October.
Lots of Louisville Free Public Libary special Halloween themed story times, check your location for options.
The Bass Pro Shop has Halloween freebies October 24-31. Details posted on their website. It's all FREE!
Belle of Louisville has special cruises for Halloween like the Scaryoke cruise or the Boo cruise. Late October – Different dates, times, prices!
Oldham County YMCA Halloween Party
– October 29th 6-8pm. Free and open to anyone.
Creepy Carnival Halloween Party at California Community Center – October 30th – 6:30pm – 7:30pm – 1600 W St Catherine Street – See their twitter message: Last year's PACT in Action Halloween Party was a blast, let's do it again!


Trick or Treat Event at National College – October 31st, National College, located on 4205 Dixie Highway in Louisville, is hosting a community Trick-or-Treat event from 1:00p to 5:00p. Bring your kids in their costumes for candy and a fun and safe indoors Halloween experience. For more information, call 502-447-7634.
Head to Bricks and Minifigs in Middletown on October 31st, and if your child is in costume, they will receive a treat!
The Outlet Shoppes of the Bluegrass is also hosting a trick or treating event throughout their complex; it is not indoors but is a safe experience during the day for families. It is free and from 4pm-6pm on October 31 502-722-5558



7th Street Haunt Family Friendly trick or treating – October 31st 4-7pm – indoors – FREE for kids up to 12 years old – lights on haunted house.
F.A.T. Hop – Halloween Hop October 31st 6:00-10:30pm on Frankfort Ave.
Fall Festival at Highland Park First Baptist Church – October 31st, 6:30pm-8:30pm. Candy, food, trunk or treat, games, bouncies,free for all. www.hpfbc.com for more details. 7321 Billtown Rd.
Light Up the Night
– New Birth Ministries on October 31st
Some of the area Kroger stores even offer trick or treating on October 31st. Check with your local store!
Trick or Treating at Oxmoor Center – 5-7pm
Trick or Treating at Mall St. Matthews – 5-7pm
Green Tree Mall trick or treating: 6-8pm while supplies last, kids under 12, no masks
Shepherdsville Fire Department trunk or treat event on October 31st – click here
There's Hillcrest Ave too – the best Halloween decorations in the city – great place to walk for an evening. Click here for another video.
Hetzer Haunted House – October 31st. Free haunted house for Halloween night. Probably for teens and older.
PRP Yard Hunt – Take your fun outdoors to a yard hunt at the Pirates of PRP This is a free attraction that is kid and family-friendly (FB pics will show you how scary it is). It is free -please bring one non-perishable item with you. Located at 9007 Seaforth Drive 40258
Now through October 31
If your kids 10 and up need some screams, there's a haunted attraction called Grim Trails in Middletown on Friday and Saturday nights.
************************
This list will be updated continuously! Know of a Halloween event we missed? Email info@louisvillefamilyfun.net