HerLouisville: A Guide to At-Home Tailgating
This post is sponsored by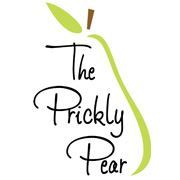 If your house is anything like mine, then you know exactly what you'll be doing every Saturday from now through December: watching college football. Between skyrocketing ticket prices, the unpredictable Kentucky weather, and the lack of rewind buttons and couches in the stadium, I find myself staying away from the stadium and throwing tailgate parties from home. It's just more laid-back and comfortable to invite friends to watch at home than to spend an entire day out in the elements.
I've gotten a lot of practice at putting together a quick at-home tailgate, and today I'm going to share with you my favorite tips to help you throw a stylish at-home tailgate without breaking the bank!
Mix in a few team licensed signature pieces with solid color plates and napkins from the dollar store, or even from your own cabinets. This lets you fill in your team colors without spending a ton on decor.


I just love these U of L and UK serving pieces from The Prickly Pear! They're inexpensive, chip-resistant, feature multiple sports and proudly announce your team spirit!
Small bites mean less waste! Make bite-sized hamburgers on dinner rolls for your littlest guests or nervous game-watchers.
Keep kids entertained with downloadable football-themed coloring sheets. Have a "Helmet Design Contest" with inexpensive foam footballs, or other small "prizes" that they can enjoy at the party.
Assume your guests will be thirsty! Go ahead and plan on several beverages per guest. The more variety, the better. Adult guests may enjoy a beer, wine, or bourbon. Everyone needs to stay hydrated. Pick up inexpensive bottles of water as well as a few types of soda. Flavored sparkling water is a great choice, too; it adds a delicious twist without the sugar or caffeine of soda.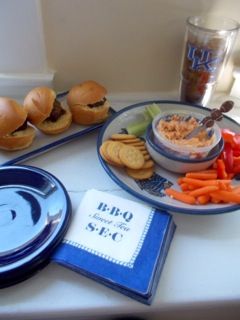 Don't spend so much time prepping that you miss the game yourself!

It's easy to make everyday snacks special while saving time! Don't be afraid to order pizza and use some pre-made shortcuts for your party!
I've found a brand of pimiento cheese that I just love; I pair it with some crackers and crudités and it's all set. Most Louisville delis offer Southern staples like pimiento cheese, benedictine or beer cheese. A couple tubs of these favorite spreads go far!
Add a Kentucky touch to your favorite brownie mix by adding a tablespoon or two of bourbon to the batter. The alcohol bakes out, and you're left with a rich bourbon accent to your brownies.
Have fun, and I hope your team wins big this season!


Heather


Learn about Heather and see a growing compilation of HerLouisville features on our new page dedicated to the topic. We'll focus on entertaining, style and dining with moms in mind!