Review of PRP Ice Cream Corner in Louisville, KY
PRP Ice Cream Corner is a cute little ice cream shop located at the corner of Sky Blue and Greenwood Rd in the Pleasure Ridge Park area of Louisville. It replaced an old, vacant building and was such a wonderful addition to the neighborhood in 2010. The ice cream shop, locally owned and operated, is going strong. Most of the workers are high school students from PRP, and they have always been super friendly. Many times you will run into one of the two super-friendly brothers who own the shop. I recently talked to one of the owners, Donnie. He told me that they strive to make PRP Ice Cream Corner a clean, safe, family friendly environment. They also try to keep the prices as affordable as possible for everyone. I thought the prices were very comparable to other ice cream shops I've been to.
They have over 24 different hand dipped flavors including some sugar free options. I have enjoyed butter pecan, cookie dough, strawberry, spumoni, and cinnamon. My daughter's favorite is superman because she thinks it makes her stronger. They also have vanilla, chocolate, and orange soft serve. They serve shakes, malts, and sundaes, including their new hot fudge cake sundae that has two pieces of cake. Yes, two! I must admit that I have enjoyed my share of sundaes this summer. Besides ice cream you can enjoy hotdogs, BBQ sandwiches, nachos, chips, candy, and sodas.
You order your ice cream from a window outside. It's covered with a very large canopy which is nice on those sunny days or if you are getting ice cream on a rainy day. After you order you will pick up your ice cream at another window. They have always been quick to get our ice cream out, which is nice because it's hard to keep a 3 year old waiting when it comes to ice cream. With your treat in hand, head over to the Banana Split Pit, which is a large covered patio with lots of wooden benches. I've never had any problem finding a seat. The shade is nice and helps keep the ice cream from melting as fast.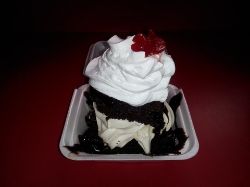 Overall, PRP Ice Cream Corner is such a wonderful addition to the PRP community. I love locally owned and operated businesses, and I try to support them as much as possible. It's clean, friendly, and affordable. I would recommend it to anyone in the area looking for a sweet treat. They are only open until October, and the date will be announced on their Facebook page. Be sure to follow their page so you can also learn when their end of year blowout date will be. Almost everything will be half-off! Be sure to fill up that day to hold you over until the Spring when they will open up again!
By guest contributor: Kimberly
Looking for more places to enjoy yummy ice cream? Click here