Top 10 Unusual Vacation Spots in Kentucky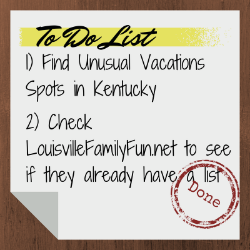 1. Wigwam Village in Cave City Kentucky used to be one of seven similar hotels in America, but now thanks to the popularity of the Interstate there are only three left. This is a unique piece of Americana. I've tried three times to get reservations to no avail, so book early.
2. The Tree Top Roundhouse along Lake Cumberland Shores is up on stilts in the tree tops. It will provide your family with a relaxing getaway in nature.
3. Have you ever wanted to try off-grid living? This cabin in the middle of the Red River Gorge features a turf roof, propane cooking, and a composting toilet. The only interruptions you'll get are when the owners bring you five gallons of water a day.
4. The Jailer's Inn in Bardstown, KY has plenty of posh rooms to choose from. But the most unique room they have is the restored jail cell, complete with black and white stripes and pictures of Elvis and James Dean. You can actually sleep in a restored jail bunk!
5. Did you know there's an Inn at Shaker Village? This historic site offers simple Shaker accommodations in a rustic setting.
6. Rabbit Hash General Store is in the heart of Rabbit Hash, Kentucky, the town that has a dog for mayor. You can stay in the General Store's apartment and explore all the charming town has to offer.
7. If you're looking for the next place for your big family reunion, check out Pine Paradise at Nolin Lake. This place has 8 bedrooms and sleeps 48. There's a game room, party barn, lake, fire pit, barbecue pit, and more.
8. Sleep in a castle at Castle Post in Versailles.
9.Stay in a luxury Yurt in the Red River Gorge at Cliffview Resort. A dome on top allows the sunlight in during the day and the effect of sleeping under the stars at night.
10. Hidden Cave Ranch offers a bed and breakfast atmosphere with horseback riding and relaxation.
By guest contributor: Maggie