Parents Like Us: Judge Erica Lee Williams
It's the time of year when yard signs pop up all over, the airways are full of campaign ads and people expressed their mixed opinions about this candidate or that candidate and elections in general. Whatever you opinion is, I think it's important to recognize that running in a public election is not easy but quite time consuming for the candidate, their team and their family. This type of dedication is not something to take lightly. So, when I met Erica Lee Williams and learned that she has a young child and a husband that also has a demanding job, I was instantly impressed by her energy and passion since I knew what she's taking on is not easy for anyone, let alone a mother! Still, she and her supporters (daughter Jacqueline is surely the #1 supporter) sport their bright green shirts in local parades and family events. Erica is classy, committed and a Parent……Like Us!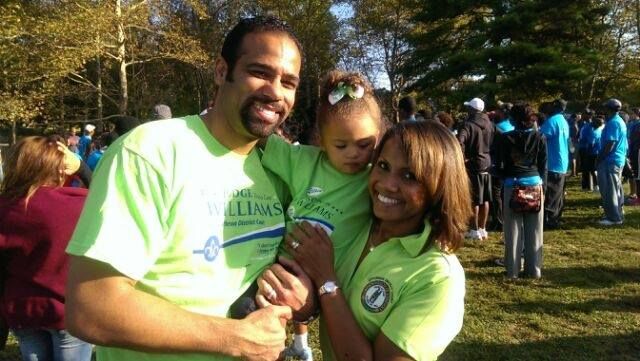 Tell us a little bit about your family and how long you have called the Louisville area your home:
I am married to Louisville native, Jason C. Williams and we have one beautiful and spunky three year old daughter, Jacqueline Chase. My husband was born and raised here. In fact, most of his family lives here. I, however, am a military transplant. Jason and I met at UK Law School- I was his mentor. After graduation, we moved to Louisville and the rest is history – as they say. Most recently I convinced my sister and her family to move to Louisville from D.C. so we can raise our toddler daughters together. My next project is to convince my Mother to follow suit!


What's one thing every parent in our area should know about?
Louisville offers many affordable and free activities for children of all ages. Since I have an active and curious toddler we spend a lot of time at the parks around the county, which happen to be free. The Parklands has a brilliantly developed park that will keep everyone in your family engaged, active and enlightened. Every parent should also know that many facilities offer "Parents Night Out". That creates a win-win situation, parents and kids are having a great time. Take advantage of those for date night!!
What's on your DVR?
Last I checked my DVR is 74% full. Currently, Elmo's Christmas, Scandal, Sesame Street, and many shows from the DIY channel. One day, I will find the time to watch the 8 DIY shows I have recorded. Until then, I am thankful for the 26% that hangs on by a thread.
Tell us about your favorite Kentucky day trip

One of my favorite day trips occurred this past Summer. We went to Waterfront Park and had a fantastic time. Walked across the Big 4 bridge and back, rode a Surrey bike up to the Lincoln Memorial, had lunch on the Great Lawn and of course played at the kids park. Jacqueline fell asleep in her car seat almost as soon as we got into the car.
What's one non-kid-related thing that you wish you had more time to do?
Date nights with my husband. Dinner and a movie would be a rare and delightful treat. I cannot think of the last movie that we saw in the theatre. However, there is no better entertainment than listening to Jacqueline sing on her karaoke machine!
My mommy-vice is a hot sugar-free carmella from Heine Brothers, what's yours?

White hot chocolate with whipped cream and chocolate covered graham crackers.
Stephanie