Review of Derby Dinner Playhouse Children's Theater in Clarksville, Indiana: "Dinosaurs Before Dark"
Allison was given two free tickets to Derby Dinner Playhouse for purpose of review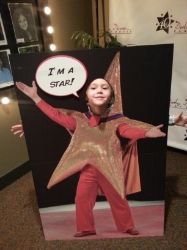 My kindergartener and I were treated to a show at Derby Dinner Playhouse and we had a blast! We were fortunate enough to be invited to come see the opening day of the newest play for kids, Magic Tree House Series: Dinosaurs Before Dark.
Each ticket purchased includes a meal, and a drink (water, tea, coffee, or milk). There are soft drinks available for purchase as well as a dessert option which is also an additional charge. As a side note I was a bit disappointed in the dessert that my son picked, he ordered a strawberry sundae and it was obviously made up in large quantities before hand and then stuck back into the freezer. As a result the sundae was frozen solid and he couldn't eat it while the lights were still on and then he forgot about it once the play started.
This was the first play that I had taken him to, and to be completely honest I was a bit nervous that he wouldn't like the experience. Boy, I was completely wrong! Several times while he was eating he kept saying that he felt really grown up. He even did well with the hour time allowed for eating, I was afraid that he would get antsy.
Stephanie had mentioned in one of her last reviews that the blinking lights were a distraction, I believe that they have this problem solved! They had everyone stand up and turn on their lights and showed them, and then asked them to turn them off during the show.
The show itself was great, it lasted right at an hour and is an adaptation of one of the books from the Magic Tree House series. The songs were engaging and the characters were so energetic. The best part? My son walked away wanting to start the book series.
I was very impressed with our whole experience and my son wants to go back to see the Rudolph play in December!
By guest contributor: Allison