Review of Jack-O-Lantern Spectacular in Louisville, KY
Our writer was granted admission for the purpose of review

If you see some strange orange glow from Iroquois the next few weeks, it is the animals, historical figures, mythical figures, and 4,990 more carved pumpkins at the Jack-O-Lantern Spectacular held at Iroquois Amphitheater.
My family and I had the opportunity to check it out opening night. We arrived at Iroquois Amphitheater about 7:10pm. The parking attendants kept the cars moving and we were able to park without any issues. As we were walking towards the event, there were port-a-pots and a funnel cake vendor. Also several event staff were around to point us in the right direction. Even though we had tickets, we still had to go near the ticket office because that is where the line to get in started. The amphitheater has bathrooms as well we saw as we waited in line. The line wait was about 45 minutes for us. Along the way are a few more vendors selling hotdogs and hamburgers ($4), beer ($5-6), apple cider ($2) and kettle corn ($5-8). There was also a green screen photo shoot you could do with your family for $10.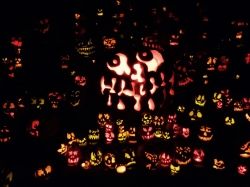 Upon entering, an event staff reminds everyone there is no smoking or flash photography during the stroll. There were plenty of event staff with flashlights in the event reminding people and answer questions as well. As we walked in and started seeing all the carved pumpkins, we realized why the line was going so slow – there were so many to see!
Without giving too much away, here are a few of our favorites: my husband and oldest son loved dragons and Dracula and my youngest son thought the dinosaurs were best. Personally, I loved the ambiance of the whole thing (Christmas section was my favorite!). Walking outside at night, seeing stars, and seeing the glowing orange pumpkins everywhere! Another thing I really enjoyed was how the different themes brought up great conversations with the kids. Between the historical figures to Titantic to Elvis, there was plenty to talk about with the kids. However, there was still plenty our kids got excited seeing such as Darth Vader.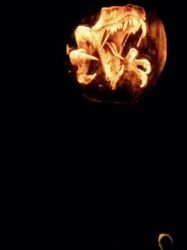 Once in the event, you could go as fast or slow as you wanted. It took us about 25 minutes to walk the 1/4mile path which is stroller friendly. My husband and I could have easily spent 40 minutes walking through, but we moved at our kids' pace (6, 4, and 2 year olds).
The tickets can be bought online for $9-15 depending which day you go. Proceeds from the event go to Louisville Metro Park Foundation.
By guest contributor: Jeanette