Getaway to Corydon, Indiana Tourist Attractions from Louisville, KY
Dana was provided passes for attractions in Harrison County Indiana for the purpose of review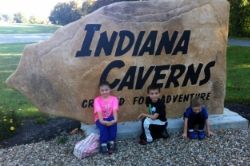 Corydon, IN is located about 25 miles outside of downtown via I-64. Hubby and I loaded up our kids, ages 7, 6 and 3 and reached our hotel, the Corydon Comfort Inn in about 45 minutes from Oldham County and through some Friday afternoon traffic. We got checked in to our room, dropped our bags off and headed out!
Our Louisville Family Fun weekend began at Golf Shores Fun Center. The first 18 holes is $7 and $5 for each additional 18 or an all day pass for $15. The kids debated on doing the outdoor mini golf course or the indoor black light course. After seeing the glow-in-the dark underwater scenes painted by local high school artists, their choice was instantly made. The owners, who were very friendly, even gave us a highlighter – explaining that it was wonderful for drawing cat whiskers and such on our faces that would glow under the black lights. The course was fun, even though my 6 year old had to be reminded more than once mini golf is not field hockey. The fact that we all got to glow in the dark was a bonus! Afterwards, the kids wanted to check out the outdoor course also. My three year old absolutely loved this one! There were tons of water hazards and he loved watching his ball go down a hill of streaming water, then retrieving it with a net – over and over and over. Golf Shores also has an arcade and a coffee shop that also sells some snacks.
Saturday morning started with Indiana Caverns – our first of three cavern tours that weekend. The cost is $19 per adult and $10 for kids ages 4-12 and it's located about 35 minutes from downtown Louisville. The beginning of the tour started out with an informative video about the history of caves – Indiana Cavern in particular, and some details on some of the fossils we were going to see. Then we went down a steep incline through an airlock of sorts and entered the cave – eventually ending up 110 feet below ground and in 57 degree temperatures. We were oohing and ahhing at all the formations of stalactites, stalagmites, columns, and my 7 year old's favorite – cave bacon. After an easy 40 minute walk and stopping to discuss points of interest – such as a 40,000 year old ice age bear skull and an active archeological dig site, we boarded a pontoon and took a 25 minute ride down the underground river. Indiana Caverns is relatively new, but our tour guide, Ms. Kathy, was very knowledgeable and kept us giggling – even the kids. Our fist cave tour was a great experience and even though my three year old kept saying everything was creepy (especially where the lights were turned off and we plunged into total darkness), he seemed to enjoy it as well. Indiana Caverns also has a "Sift, Look and Discover" gemstone mining activity (bags range from $6-$25) and a picnic area but we had a busy day ahead of us so we kept moving!
Our next stop was Squire Boone Caverns – about 15 minutes down the road from Indiana Caverns. The Squire Boone Caverns offers a zipline, campground, a hand-dipped candle shop, a grist mill, a rock shop, and candy shop to name a few activities. The cost is $16 for adults, $14 for seniors, $8.50 for kids 6-11, and kids under 6 are free. As we signed in for our tour we were told that to get to the cave, we would first descend 65 steps straight down a spiral staircase then continue on a few more stairs down to the entrance. The staircase is, honestly, a little scary when you are accompanied by little legs. As my three year old and I tackled the steps together, I was simultaneous concerned about my surefootedness as well as all of those above me, but we made it to the bottom just fine. A few feet in, we saw the coffin (yes, coffin) and headstone belonging to Squire Boone himself. Squire Boone has a few more stairs and is more physically challenging, but the different features (like walking over a small waterfall and the rimstone dam) are worth the extra steps.
After a quick recharge at what my three year old dubbed, "our hotel house," we ventured out again to Deere Farms. The farm is off I64 just 12 miles outside of Louisville. The cost for entry, $8 for adults and $5 for kids 3-12, includes a bounce house, animal farm, shuttle to pumpkin patch, 3 different corn mazes spanning 12 acres, and even pig races that are run every hour on the hour to name a few. They have paid attractions which are very reasonable – my daughter took a pony ride for $3 and my sons took a barrel train ride for $1 each. There was also a concession stand filled with yummy goodness like burgers, brats, pork chops and pumpkin ice cream! The pumpkin patch is a bit rustic so flip flops are not a good idea and I speak from personal experience. With all the kid-friendly activities and places to roam, we spent quite a bit of time at the farm expending the energy we gained from our previous nap. The kids loved the tire mountain, hill slide and hay maze. We also did the small family corn maze before checking out the last pig race of the day at 6. We were rooting for Trevor but Precious Pink came in first.
That was about all the excitement we could handle so we headed back to our hotel house. The next morning we loaded up and headed to the crown jewel of our cave tour, Marengo Cave, located about 45 minutes outside of Louisville. They offer two different cave tours, The Dripstone Trail ($16.50 for adults and $9 for kids 12 and under) which is a mile/hour walk and The Crystal Palace tour ($14.50 for adults and $8 for kids) which is a third of a mile/40 minute walk. You can purchase tickets for both for $25 for adults and $13 for kids. We chose the Dripstone Trail and when certain legs and attention spans get longer we'll go back to do both. The Dripstone Trail included a tour that was dripping with history – in some spots quite literally. The kids loved throwing pennies at the mud ceiling trying to get them to stick at the reverse wishing well. The enormous caverns were filled with beautiful formations as well as small a pond which reflects the walls so clearly they call it the Glass Lake. Marengo also has cabins, camping sites, canoe rental to travel the Blue River, and opportunities to get down and dirty exploring undeveloped natural cave.
For lunch we headed to Point Blank Brewing Company in downtown Corydon. They have a kid friendly menu (we all loved the pizza) and Hubby and I enjoyed reading over the menu of over 100 craft beers. Downtown Corydon definitely had that Midwest America Small Town charm – but go on a Saturday if you want to check out the "world-famous" Butt Drugs and the cute boutiques and coffee shops. We will definitely be back to take a walking tour and check out what we missed.
We found all the folks to be extremely friendly and accommodating. With Harrison County such a short trip from Louisville, it's worth the short drive to experience all the history and beautiful sites we saw. You can spend an afternoon or a weekend and completely fill your agenda with new memories and be able to get back home in less than an hour! A special and heartfelt thanks to the Harrison County Visitors Bureau and Louisville Family Fun! See the below slideshow for pictures!

By guest contributor: Dana