Kid's Vision Night at Visionworks
This is a sponsored post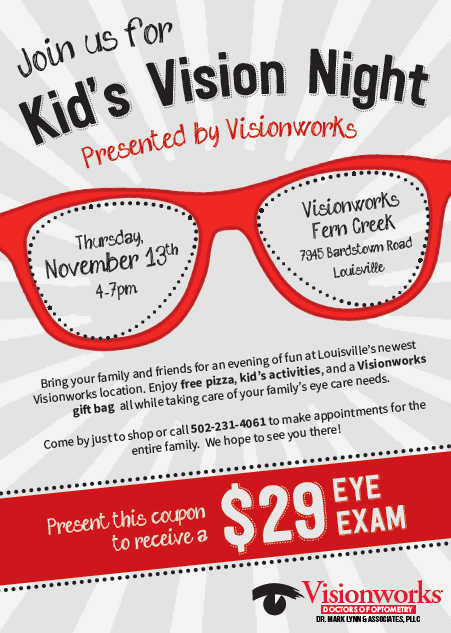 Your kids need their annual eye exam or a new pair of glasses (can't believe they broke those already!) and you're not looking forward to dragging them to doctor for an appointment.
Don't distress. You're in luck.
Visionworks Doctors of Optometry is excited to announce their first Kid's Vision Night at their newest Louisville location in Fern Creek on Thursday November 13.
Visionworks is hosting a Kid's Vision Night at its newest Louisville location in Fern Creek location on Thursday, November 13th from 4 to 7 p.m. Bring the kids out for some fun and games while also enjoying a convenient shopping experience. There will be free pizza, a bouncy house, an appearance by Buddy the Bat, balloon animals, a gift bag from Visionworks, and other various activities.
"We wanted to make the shopping experience for families as convenient as possible, so we've provided supervised activities for kids while their parents or siblings take time to shop or get their eye exams. Hopefully it can be a one stop shop to take care of all their eye care needs." said Lynn.
Appointments are encouraged for Kid's Vision Night, although walk-ins are welcome.
Visionworks Fern Creek is located at 7945 Bardstown Road, and can be reached at 502-231-4061 to schedule an appointment.