Review of A Coca-Cola Christmas Exhibit at Louisville Slugger Museum
Allison was given admission to exhibit for purpose of review.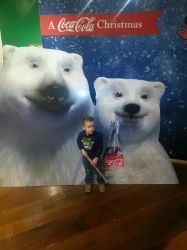 My husband and youngest son recently set out to visit the Louisville Slugger Museum's newest rotating exhibit. It is called "A Coca Cola Christmas", and it is included with the regular ticket price of the factory tour.
Inside the room there is lots of memorabilia spanning over 75 years of history for the company. There was a part of the tour where kids both young and old can write their Christmas wishes on post it notes and put them on a designated wall. They also have voting for a favorite Christmas tradition like real tree or artificial, favorite Christmas movie, and a few more categories.
The exhibit also showcases oil paintings from the famous Haddon Sundblom who painted advertisements for the Coca Cola company for many years. Interestingly, he is credited with creating the image of Santa Claus that we know and love today. My three year old pretty much breezed through the exhibit and was done rather quickly. Due to the "no hands" nature, I would recommend it for older kids or even for family that you have in town over the holidays.
Santa will be making appearances on November 29, and December 6, 13, and 20th. He will be handing out candy canes, posing for pictures and of course taking gift requests.
By guest contributor: Allison