Review of KID Lab at University of Louisville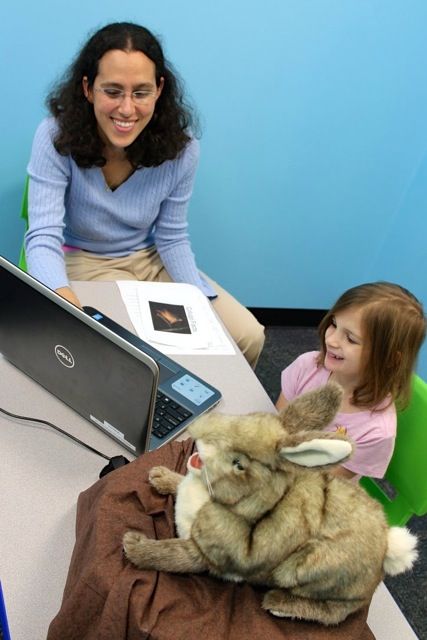 My children and I recently visited the new KID Lab at the University of Louisville. The Knowledge in Development (KID) lab opened in the summer of 2014. It is operated by Dr. Judith Danovitch and Dr. Nicholaus Noles. There are multiple U of L students serving as research assistants. In addition to gaining valuable practical experience, the students are able to earn some college credit for their time in the lab.
The KID lab seeks to gain more knowledge about how children think and process information in the world around them and how children seek out and evaluate information throughout their various stages of development. They do this through inviting children up to age 12 to participate in short studies, consisting of fun stories and games. (Babies can participate in studies through the Infant Cognition Lab). In exchange for their participation, the children receive a certificate, t-shirt, book, prize and a free pass for the planetarium. Not to mention the fact that they have fun! My son, 9, and daughter, 5, both enjoyed their time in the KID lab. They felt like "big kids" being on a college campus, and, of course, they loved all the free swag!
As a parent, participation is easy. In this case, Dr. Danovich contacted Louisville Family Fun asking for a volunteer, but typically, parents volunteer their children by signing up online or by calling 502-852-0718. When a study is available for the appropriate gender and age, the parent is contacted, and she or he can determine whether or not they wish for their child to participate. The appointment hours are flexible. Clear driving directions are provided, as well as free parking. Dr. Danovich and her lab assistant met me in the parking lot and personally walked us to the lab.
Once inside the lab, I was asked to complete a brief form for each child. The children were taken to separate rooms to participate in their respective studies. I sat in the waiting area where I had access to a video monitor that I could switch between the rooms so I could watch what my children were doing. The whole process took less than half an hour.
As a Psychology major, I really enjoyed learning about each of the studies, which were explained to me by Dr. Noles. Developmental studies are valuable tools which can benefit not only our children, but future generations. The KIDS Lab staff is friendly and welcoming and the entire experience was pleasant. I added my children to the list to participate in future studies and hope others will consider doing so too.
By guest contributor: Brandy