Holiday Gift Giving Guide: Pair a Book with a Toy
It's one of my favorite times of the year, where the creative juices get flowing to come up with some fun gifts for all my favorite kids in my life.
This year I thought it would be fun to pair one of our favorite books with a toy (non-battery!) to have the kids play out the books too. ~Jeanette
One of our favorite series is the Nate the Great books written by Marjorie Weinman Sharmat. It is an easy read chapter book about Nate the Great who is a detective that love pancakes. This book would be great paired with super sleuth or detective toys such as ALEX toys – pretend and play super sleuth kit.
We are also huge fans of the author, Mo Willems. One of our favorites is Listen to my Trumpet: A Piggy and Elephant book where Piggy is playing his trumpet for Gerald. This would pair well with
Quercetti Super Saxoflute or another musical instrument.
My boys love cars and building things so go with If I Could Build a Car book which describes how a boy would design a car. This makes sense to match with a toy where the child can design his own such as ZOOB Mobile Car Designer or a Lego car set
The Gruffalo by Julia Donaldson can get your child's creative juices flowing on how she would create her "Gruffalo" with a Make your Own Monster puppet set.
The book, If you Give a Mouse a Cookie would make a perfect match with – Melissa and Doug Slice and Bake Cookies. However, if your kids enjoy baking with you- putting together a real decorating cookie kit – with icing, sprinkles, and cookie cutters would be another way to go too. Who doesn't love eating fresh, warm cookies?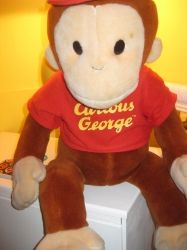 And who can resist a good Curious George book such as Curious George Goes Camping– and then go camping in your own house with a play tent?
I love to shop local for those unique gifts, and shopping for a toy or item that goes with a book is just right up my alley! With so many families now opting for a book as a gift for a birthday, holiday, special graduation day, whatever it may be, pairing up a gift with a book is a perfect twist for a new way to gift the special little person in your life. The six books and gifts I chose are geared toward Louisville local shops! ~Erin
The Parent Teacher Store and Toys Too! – I love the blank books I bought at this store last year. My daughter loved drawing in them and writing her own stories to illustrate. She filled them up very quickly, so it's time to head back there this season to restock her supply. Give a child some of these blank books and some art supplies We wrote about this great idea last year, see it here! Of course WE LOVE this store, and they have SO many options for great gifts, especially unique stocking stuffer ideas! Check them out soon.
Located at 10211 Westport Rd, website
Heartland Music Together-give a gift certificate for a semester of music classes for the child you love in your life! Pair it with a singalong book such as those by Raffi or Laurie Berkner. I love Baby Beluga by Raffi and Victor Vito and Freddie Vasco by Berkner. Heartland Music Together even has their own line of singalong books that go with some of their most beloved songs!
Heartland Music Together classes occur all over the city in the Highlands, Middletown, St. Matthews, Fern Creek, New Albany, Westport Rd area, and even Shelbyville! See their website for all kinds of information.
Mama's Hip – At Mama's Hip, parents and caregivers can find these awesome capes and other treasures throughout the store. They are a community-driven center in the Highlands and they offer lots of parenting classes as well as natural parenting supplies, plus they carry toys, clothing, and other items. I just bought a super wooden puzzle there for my son. These capes are sewn by a local mother (Squeaky Pieces) and would pair great with a version of Little Red Riding Hood or the Ladybug Girl series or Below by Nina Crews for super hero-like boys.
Located at 1559 Bardstown Rd, website
At The Diaper Fairy Cottage, you will find a plethora of gifts and gift ideas! This shop is more than just a cloth diapering service! I stopped in there recently and realized how many awesome items they had in stock, everything from wooden toys, dress-up items, plush animals, imaginative/creative play things, and tons of books. They even pair up books with a toy right on their display shelves-brilliant! I picked up the "shadow" books-children use a flashlight to shine through the pages, and the images shine onto their wall. I love these! Give your child one of these books with a good flashlight and a set of D batteries and they will be set!
Located at 1811 Bardstown Rd, website
When I stopped into The Prickly Pear boutique in Middletown recently, I picked up this great book, Santa in Kentucky, and thought it would pair very well with one of their cute ornaments to give to your kids. One of the traditional gifts I always give my children is a new unique ornament for each year, and I loved the ones I saw here! They have all kinds of little gift ideas, from leggings for babies to t-shirts for kids through adult sizes. And if you have a jewelry-loving child or tween/teen, pick up something extra special from The Prickly Pear and put it in their stocking!
Located at 11505 Main Street in historic Middletown.
Call 502-254-7327 for more info.
Carmichael's Kids Bookstore and A Reader's Corner are Louisville's two independent local bookstores, so if you're looking for a book gift for a child, shop local and find one at one of these bookstores. How about picking up a great Eric Carle book such as The Very Hungry Caterpillar, and go home and make an art project together after reading the book. Check out his website for a list of all of his awesome books and The Artful Parent has some great ideas for inspiration on recreating his style of artwork and illustration.
Carmichael's is located at 1313 Bardstown Rd, website
A Reader's Corner is located at 2044 Frankfort Ave, website
See our two Top 10 Local Shops lists also: 2014 and 2013
By guest contributors: Jeanette and Erin