Review of Catering by Salsarita's, Middletown Location in Louisville, KY
Karen was given a catering package for purpose of review
Catering provided by the Middletown location
12915 Shelbyville Rd., Louisville KY 40243
(502)365-1424
Catering (502)356-9468
Hours of operation: M-W 11am – 9pm, Th-Sat 11am – 9:30pm, and Sunday 11am – 9pm
Website
Looking for something FRESH and delicious to have at your next social gathering, company meeting, or special event?? Well look no further, Salsarita's Fresh Cantina catering is where it's at!
I set out in search of a catered meal that would satisfy my 14 Saturday evening dinner guests, those of which ranged in ages from 5 to 40. Salsarita's catering options offered a few different choices – we went with the Taco Bar, reasonably priced at $8.49/person.
The Taco Bar includes:
– Flour Tortillas
– Grilled Chicken & Ground Beef
– Mexican Rice
– Black or Refried Beans
– Lettuce, Tomato, Cheese and Sour Cream
– 3 House-Made Salsas
– Guacamole
– Organic Chips (*Salsarita's refers to them as "Wildly Addictive", and I agree!)
– Utensils, Plateware & Serving Items
I opted to make our Taco Bar the "Deluxe" version, which also includes queso and poquitos for dessert, I highly recommend the poquitos; they are "little round cinnamon and sugar covered dough" – really they're like little bites of warm heaven!
Placing the order was quick and effortless, and the staff were very easy to work with. I arrived at the exact established time of pickup to find that the employees were just finishing packing up my items. I literally watched them take the meat off the burners, and the poquitos out of the oven just after I walked through the door. My items were carried out, and placed in my car for me, and all that was left for me to do was to get it back to the house for a feast!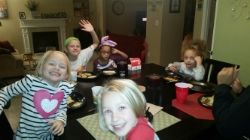 EVERYONE enjoyed the food, and I mean everyone — even our normally picky (little) eaters! There were many compliments made throughout the evening, two of which were in reference to liking "this place" much better than that "other similar place" we've all tried before. Everything was so fresh — hot items being nice and hot, and cold items, crisp and delicious! So fresh in fact that, because our order "that serves 15" allowed us leftovers, it even tasted fresh the next day!
All in all, Salsarita's is a great choice in catering for any occasion!
By guest contributor: Karen