Review of Clark Ceramic Supplies Shop in South Louisville, KY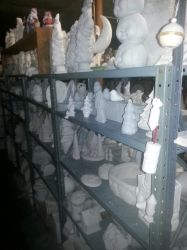 I've taken my young daughter to several paint-your-own-pottery shops in the area recently. They had become our go-to place when we couldn't think of something to get a grandparent or aunt/uncle for their birthday or Christmas. Who doesn't love to receive a hand painted ceramic from a child? While our experience at each pottery shop has been wonderful, we may not be returning too soon. The only reason is because my mom introduced me to a Clark Ceramic Supplies, and it is a painter's dream come true!
Clark Ceramic Supplies is located at 4231 Cane Rune Road in southwest Louisville. It's a hidden gem. This small shop is filled floor to ceiling (literally) with ceramics of all kinds. They have everything from holiday items like Christmas trees and Santa to ballerinas, trinket boxes, angels, lighthouses, cars/trucks, plates, cups, vases, and so much more. I was amazed at the selection. There are about five or six aisles to browse. I will warn you that the aisles are very tight and it's difficult to get a good look at all the ceramics while watching little ones who like to touch everything. There is no room for strollers, and even holding my 18 month old was difficult because her legs could touch the ceramics when she tried. Not only is the selection great, but you can't beat the prices. I paid $2 each for ceramic ornaments (sphere, 2 different angels, and a Santa). My daughter also picked out an angel holding a candle (about a foot tall) for $7. We also bought a ballerina for $5 and a snowman for $6. I have been several times lately and usually spend around $20 total for 3-4 different pieces.
Another thing that is so awesome about this place is that you don't stay there to paint. We took ours home and painted them that night while we were in our pajamas, listening to Christmas music (yes, a little early), and drinking hot chocolate. It was so much fun! My daughter got a little tired half way through painting, so we just set it aside for the next day. You save the painting fee that you have at most pottery places by buying the ceramics here and painting at home. You will want to paint with acrylic paint (make sure your children are wearing old clothes or an apron), which you can pick up at any craft store. We were able to find the paints 50% off one week and really stocked up. I believe they were about $1.50 each. And another good thing is you don't have to wait a week or two for your piece to be fired and return to pick it up. If you use acrylic paint it's good to go after the paint is dry.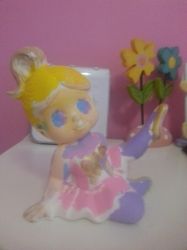 This shop is worth the drive if you aren't from the area. It is only open on Wednesday, Thursday, and Friday from 10-3:30 so keep that in mind if you plan on visiting. It says open on Saturdays by appointment, so you may want to call (502-449-1718) if the other days don't work for you. The owner, Helen, has always been very helpful and kind. She will answer any of your questions and guide you in the right direction. Happy painting!
By guest contributor: Kimberly