2015 Bucket List of Best Things to Do in and around Louisville and Kentuckiana
For the past two years, I have come up with a Bucket List of some of the best, fun, sometimes free things to do in and around Louisville. For 2015, I've updated it with the top 12 things to do, one for each month.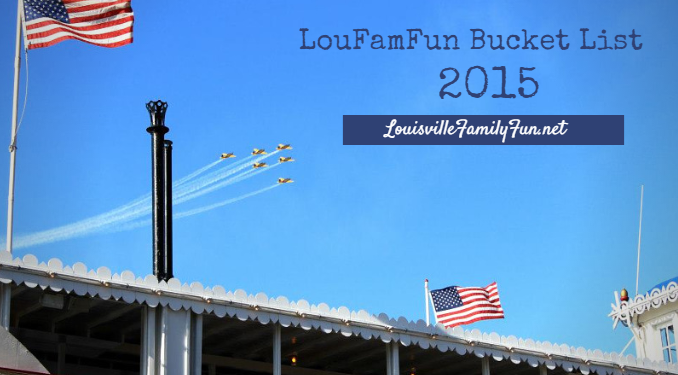 January – Since this month is practically over, I will just highlight our awesome Winter Fun Links. There are tons of ideas here and plenty of things to choose from to do with your family.
Don't forget that the inaugural season of our city's first professional soccer team, Louisville City Football Club starts in 2015. Their schedule has not been released yet, so keep checking their website for more info.
February – Head to the Louisville Nature Center this winter and spring. They have tons of fun programming, most indoors but they also have a neat family event called StoryWalk. It's completely FREE! Upcoming dates are: February 7 and 21; March 14 and 28; April 4 and 18; May 2.
Also, Mega Underground Bike Park opens at Louisville Mega Cavern! According to their Facebook page: "Join us in early February 2015 to experience a one of a kind Underground Bike Park. Over 320,000 square feet including over 45 trails, Jump Lines, Pump Tracks, Dual Slalom, BMX, Cross Country and Single Track all in a former limestone cavern 100 feet sub-surface. Enjoy the comfort of our 60 degree temperature year round. Come experience what the buzz is all about. You simply won't believe what you see."This new attraction is sure to bring loads of entertainment for those active families and those with older kids.
March – Family fun is all over the place at the University of Louisville baseball games! The entire season is FREE (with the exception of the UK game) and the stadium is a great place to hang out! They also have family promo days throughout the season. See their upcoming schedule here. The season starts on February 18 at Jim Patterson Stadium.
April – Thunder Over Louisville with the return of what promises to be another impressive air show in 2015! The entire month of April is great with all the events leading up to Derby time in Louisville!
May – The Early childhood exhibit, Science in Play, is set to open later this summer and it's been totally redone! Head to Kentucky Science Center for some science in play fun and rediscover one of Louisville families' longtime favorite downtown spots. It's set to reopen in its permanent space in July 2015, with the entire first floor of the Science Center being dedicated to this exhibit.
June – Twilight hours and movie nights at the Louisville Zoo, plus all the fun with school ending and summer reading starting. Last year the city put on a Cultural Pass program-hopefully it returns as it was widely popular with families last year!
July – Summer concerts in Louisville, especially along Louisville Waterfront, are especially fun for families and people of all ages. Check out WorldFest later in the fall, St. James Art Festival, Cherokee Triangle Art Festival (these are the highly recommended ones from readers) and more. Our outdoor summer concerts post will be coming in early summer.
August – I love to highlight spending time in the bustling Southern Indiana cities of Jeffersonville and New Albany. With the completion of the Big 4 Bridge and access to cross into Indiana, the possibilities are endless for exploring sites, eateries, and parks you haven't explored yet with your family on the sunny side of Louisville, such as Big Four Station at the end of the ramp in Downtown Jeffersonville.
September – The Parklands of Floyds Fork is set to finish all of the building and constructing of its entire parks system in 2015. By fall of this year, all of the parks will hopefully be open! My kids and I recently discovered the redesign of Pope Lick Park and it is definitely worth checking out. Turkey Run Park and Broad Run Park (with waterfalls and a playground/sprayground!) are both set to open some time in 2015.
October – ColorFest at Bernheim Forest is a must see according to several, plus check out the Halloween parades such as Caufield's Baxter Avenue and the Hillcrest Avenue decorations.
November – Lights Under Louisville at Louisville Mega Cavern has become one of our family's favorite things to do around the holidays. They usually post a Groupon that saves you quite a bit so be on the lookout for that.
December – Look for our comprehensive and huge list of Holiday Events right after Halloween! I honestly can't really pinpoint one thing (because we love to do so many things), but I do have to say that after all the years of living in Louisville with kids, we still have not made it to the famous peppermint candy making viewing at Schimpff's Confectionery, so I highly recommend that. Don't wait until after Christmas either; we made that mistake and came to find out that they close up shop early on Christmas Eve and don't reopen until after the new year. My daughter and I also attended a fantastic candy cane making event at Buckhead's Mountain Grill in Jeffersonville that was fabulous-look for that to come back to the area.
See last year's list (2013 and 2014 combined) as well. What would you include, leave us a comment and tell us!
~Erin