Summer Camps in and Around Louisville, 2015: Academic Camps
This is a partially sponsored post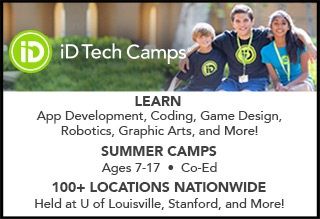 iD Tech Camps: Code, Game, Create!
Held at the University of Louisville and other top universities nationwide.
Weeklong, day programs for ages 7-17
www.iDTech.com
1-888-709-TECH (8324)
info@iDTech.com
Learn code, game design, app development, robotics, web design, film, photography, and more in a fun camp setting!
Weeklong, day programs for ages 7-17 are held at over 100 top universities nationwide including the University of Louisville, Stanford, Princeton, and Yale. Come explore a university campus, experience lots of hands-on learning, get inspired by energetic instructors, and build critical 21st century STEM skills. We guarantee 8 students per instructor for personalized learning. Every time.
Montessori School of Louisville A variety of programs which develop a positive self-concept, including Yoga one afternoon each week. Themed camp programs, with off-site field trips organized over the course of the summer. Ages 3 – 10 years. Call 502-640-8585 or email office@msl-edu.org
In alphabetical order – It will continue to be updated as camp information is released:
** denotes "preschool too!"
Bellarmine Lots of options, price ranges, and dates. Check site for all options.
Brown Forman INSPIRE Summer Enrichment Program June 22-July 3, Monday-Friday, 9-4. Targets minority high school students, but open to all. Free!
Handwriting is Kid's Play Camp *** July 13-17. 9-12. $150.
IU Model UN Summer Camp June 21-26. $600 includes food and lodging.
Junior Achievement BizTown Camp $195/week, full day. Ages 9 – 12. Available in June and July.
Kentucky Country Day June 1-August 8. Many options available. K-12, depending on camp chosen. Prices and times range depending on camp.
Kentucky Science Center ** Science camps. Ages 4-15, full and half day camps. June 1-August 7.
Kids Center for Pediatric Therapies ** Summer Therapeutic Handwriting Camps. August 3-6. Age 4 – Early Elementary.
Louisville Collegiate School *** Six Weeks: June 1-July 10. Over 100 options for half-day and full-day camps and classes. Ages 4-18. Taught by experienced teachers and open to all students.
Newton's Attic Overnight Camp July 20 – 24 in Lexington. Classes by day, outdoor activities and cabin camping at night. Ages 10 and up.
Russian School of Mathematics – Summer classes during 2 sessions for grades K and up.
Sullivan College of Technology and Design Five options for high schoolers. $300-$495.