Review of Buffalo Trace Easter Egg Hunt
Bourbon tourism in Kentucky is up 12% from 2012, and it looks like it is going to keep on growing. I recently wrote about the Kentucky Bourbon Trail for families, and since then I've talked to a lot of parents who enjoy taking their kids along to Bourbon events. Distillery tours and The Kentucky Bourbon Festival are two of the common trips on which families seem to be taking with their kids. But did you know some of the distilleries also have family-friendly events?
Last year I finally made it to Buffalo Trace's Easter Egg Hunt with my youngest son. Buffalo Trace is located in Frankfort right by the Kentucky River, and the grounds are absolutely beautiful. They had three areas set up for different age groups, and each age group started about 20 minutes apart.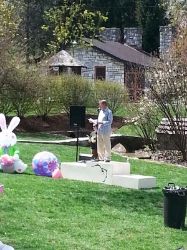 After the egg hunt, we got in line to get a picture with the Easter Bunny. They had several Easter bunnies around the grounds for each age group so the lines wouldn't get too long. They also served lemonade and cookies. There was a beautiful playground and beautiful walking paths to explore. The best part was that it was all free and open to the public.
Buffalo Trace Distillery offers lots of events throughout the year. Check their events page for more details. The drive is short and beautiful, and there are lots of other distilleries as well as the Salato Wildlife Education Center along the way if you want to make a day of it.
By guest contributor: Maggie
PS. Click here for our listing of local Easter Events.