Review of Shakespeare & Co Restaurant in Lexington, KY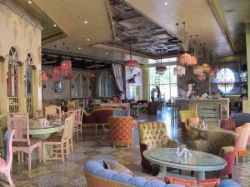 Recently, I had a rare opportunity to have a girl's night out with both of my sisters and we headed to Lexington to attend a concert at Rupp Arena. We arrived early so that we could find a good parking spot and find a local and unique place to have dinner together before the concert. We walked along the streets/downtown area near Rupp Arena and the Lexington Center and ended up finding Shakespeare & Co USA. This place was so cute, with neat seating and a great outdoor eating area. There were hightop tables as well as low tables with chairs, and many of the seats were comfy chairs or sofas around a coffee table; very fun for a date or a girl's night!
We browsed the menu quickly and saw salads, sandwiches, pizzas, and other specialty entrees. One of my sisters chose a Caesar salad with chicken and my other sister and I split a tomato and mozzarella pizza. We each had a drink: a cider, a special order Bellini, and a draft beer. We really enjoyed our meal and time together, and the ambiance of the restaurant enhanced our experience. There is also a delicious looking dessert selection. It is within great walking distance to Rupp Arena and other spots (like the Explorium and Lexington's Children's Theatre) throughout downtown Lexington. Remember it's one of our Top 10 Day Trips!
Our bill came to under $35 for the three of us, so it was very affordable and fun. They also offer catering, a patisserie, fine chocolates, and online shopping. Find their website information here. Next time you're in Lexington (and if you are heading there you need to check out Kentucky Family Fun), give it a try!
By guest contributor: Erin
photos courtesy of Shakespeare & Co Facebook page