Children in the Dell at Yew Dell Botanical Gardens in Crestwood, KY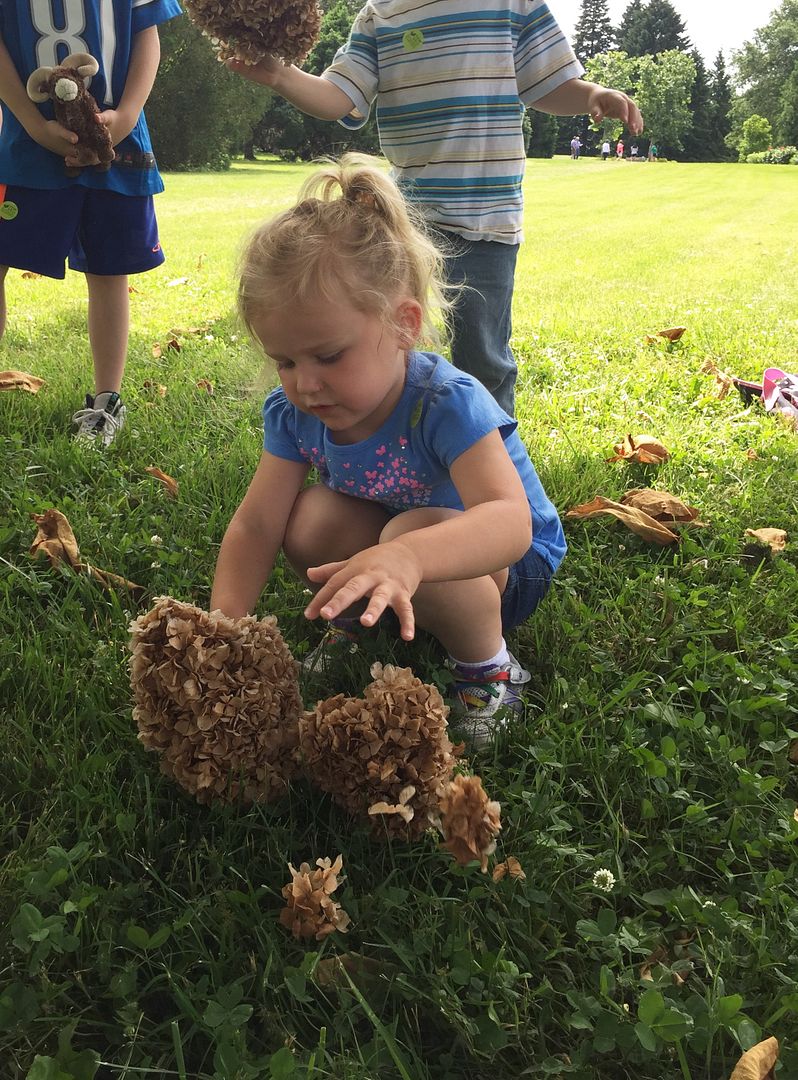 Sometimes in order to truly experience something, you must experience it through the eyes of a child. Yew Dell Botanical Gardens is a five minute drive from our house and we have visited there probably a dozen or so times. Many of our visits were for special events, like Boo Dell, their scavenger hunt or a playdate outing. My husband and I recently took our two children to Yew Dell's Children in the Dell program one Saturday morning. It was on this Saturday morning that both of us realized we had never fully experienced Yew Dell or quite enjoyed it to its capacity during our previous visits.
We arrived at Yew Dell a few minutes early to check in and pay for admission to the program. The program is free for children with regular admission of a parent or guardian. Adult admission is $7 and they are asked to remain on the grounds during the program. Even though the activities are geared toward children 5 and up, my 3 year old (along with other younger children) was able to enjoy the program with help from an adult.
We gathered together near the entrance with our teacher, Cathy. She gave us a brief introduction on the program and what the activity would entail. We took a short walk to the building where we would do the craft. Along the way, Cathy gave out bits of information about the grounds, but explained that we would later go on a walk and more questions would be answered.
The craft was simple and a lot of fun for the children. There was even a "garden" element to it. The children created sun catchers using a cut out poster board star, contact paper and red, white and blue flowers from a lei. While the glue was drying on the stars, we took a group walk around the grounds. This is when my husband and I (and the children) really got to experience Yew Dell Gardens. The laid-back nature walk allowed everyone to explore beautiful Yew Dell using a variety of senses. The floral smells were amazing, my son created an instrument from a shell with seeds that had fallen from one of the trees, a little girl created artwork using a dandelion, the children climbed trees and touched magnolia blooms.
Cathy was very patient, kind and flexible with the children. I loved that she allowed the children just the right amount of freedom to explore while respecting the Yew Dell grounds. She explained that there are about four educators that help with the children's program and the walks and craft vary with each person. Yew Dell is stroller friendly, with paved walkways, and restrooms are close to the craft building.
After our walk, we completed our craft and a light snack and water were provided for the children. Families are free to continue to explore Yew Dell after the children's program is over. This program runs May – September on Saturdays 10:30-Noon. You can pre-register online, but there is an additional fee, and drop-ins are available if space allows. There are different memberships available that cover adult admission to programs like Children in the Dell and offer reciprocal benefits at other botanical gardens like Bernheim Forest.
Children in the Dell is a great program for families to explore and appreciate what nature has to offer!
By Guest Contributor: Nicolle