Review of George Rogers Clark Days at Falls of the Ohio in Clarksville, Indiana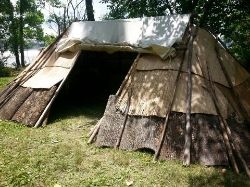 If you've lived around here for any length of time, you've probably been to the Falls of the Ohio. You can hike around in the fossil beds for hours and find dozens of species of fossils. As you walk toward the interpretive center, you will probably walk past the statue of Lewis and Clark and wonder why it happens to be there.
As it turns out, George Rogers Clark once called the park area his home. There is a replica of his cabin built on the other side of the park, and every summer there is a "George Rogers Clark Days" celebration. I didn't even know about the cabin and I only recently learned about the celebration, so we decided to check it out.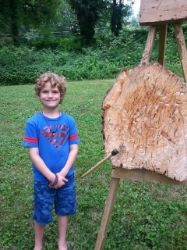 People were dressed in period clothes and put on demonstrations of what life would have been like for them during the time of George Rogers Clark. We checked out a Native American travel lodge and various types of dried preserved foods of the time period. My kids learned how to throw and axe, shoot a bow and arrow, and sling a spear. They watched a blacksmith work with iron and they learned how to start a fire with a flint and tinder. And I learned that my kids are naturals at primitive weapons.
The best part is that this fun, educational two day weekend event was completely free. It was a little tough to find since we had never been to the cabin side of the park before, but this is definitely an event I would recommend to any family interested in local history and period demonstrations. My kids had a blast! Don't forget to stop by The Widow's Walk Ice Creamery for a treat on your way out!
George Rogers Clark Days are scheduled for June 27 and 28 for 2015.
By guest contributor: Maggie