Review of the Early Childhood Music Program at The Oldham County Schools Arts Center
I was given the opportunity to attend a special Early Childhood Music demo class at
The Oldham County Schools Arts Center
. This parent-child class was so much fun and my three year old daughter loved it!
I attended the class along with my MOPS group, so our class size was about triple the normal class size, but this did not phase our patient instructor, Lindsay Kennedy! Normal class size is no more than 11 students and is perfect for children ages 0-5. The class meets once a week for 50 minutes for 10 weeks. There is a Wednesday morning and a Saturday morning class option.
Lindsay started with an introduction "hello" song for the children to sing, sway and tap along to. We were arranged in a circle, but some of the little ones wanted to wander, which was perfectly ok. During our demo class, the children learned age-appropriate song lyrics and movements. They were given a chance to do these things independently and also along with their caregiver that was with them.
We were asked to bring our child's favorite teddy bear to go along with the teddy bear themed songs and activities Lindsay had planned for us. (There were class teddy bears available in case anyone forgot to bring one.) The children absolutely loved interacting with their teddy bears while singing, dancing and moving! I think everyone's favorite was the parachute! Who doesn't get excited when they see the parachute come out?! Our group was allowed a few minutes of free play with an assortment of instruments after Lindsay had finished her lesson. (She normally incorporates the instruments into the lesson, but our group was too large for each child to have an instrument of their own.)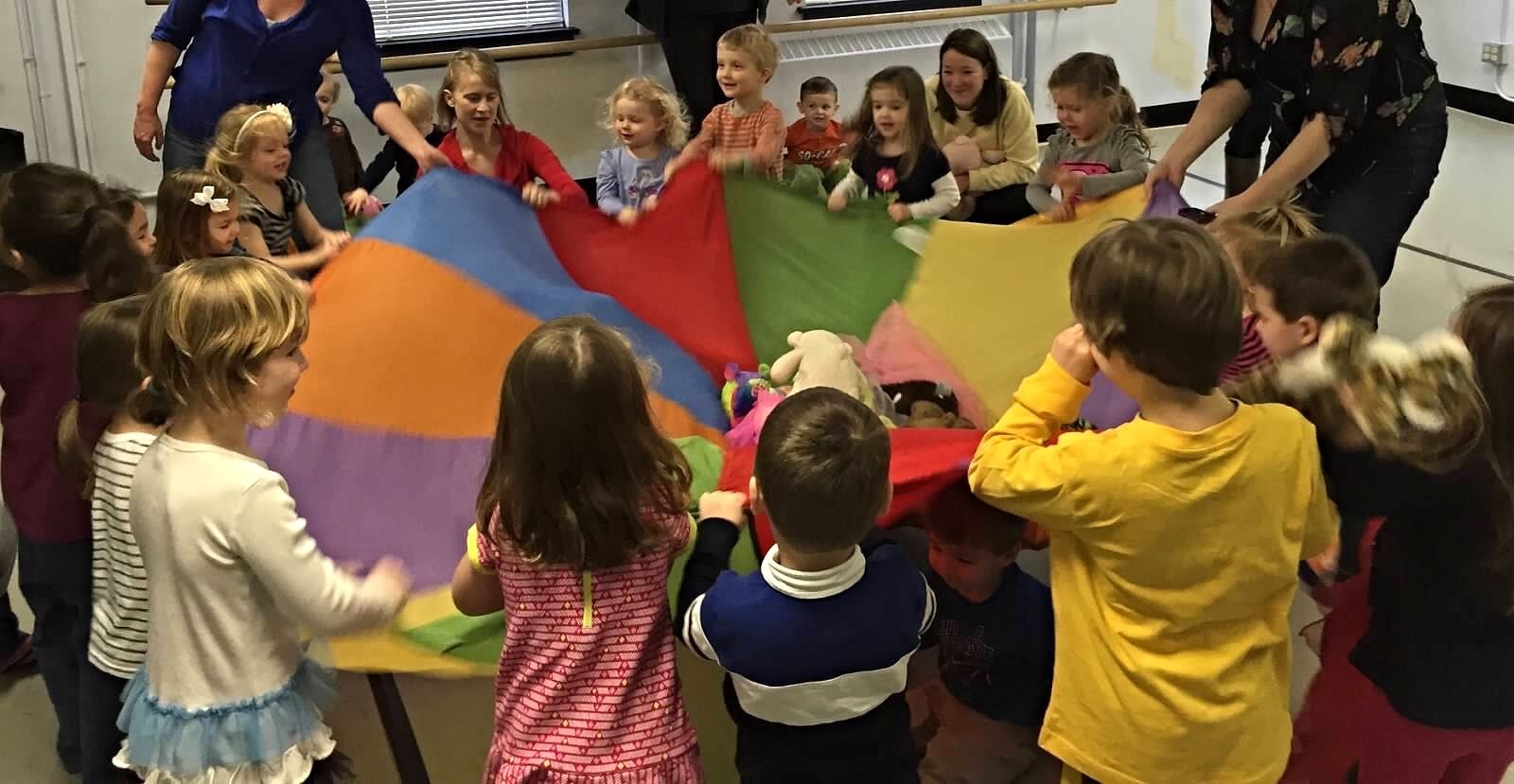 According to the Arts Center's
website
, "The program is a learning experience that provides a rich, musical environment in which your child can play, move, dance and sing. Lessons consist of songs, chants, and movement accompanied by the use of fun props such as egg shakers, rhythm sticks, scarves, parachutes and percussion instruments." The program also has goals set for the activities throughout each lesson. For example, one goal is that your child will develop a sense of a steady beat and learn locomotor movements that can connect to that steady beat. Music and movement sounds right up a preschooler's alley and our group loved it!
The Oldham County Schools Arts Center
offers many enriching music and other related arts programs for all ages. Check out the Center's
website
and
Facebook page
for more information on their wonderful programs (including upcoming summer camps)! I love that they now offer preschool aged children an opportunity for musical development! The atmosphere was very laid-back, engaging and fun!

By Guest Contributor: Nicolle