Weekend Getaway to Nashville, TN – Fall break idea!
We have lived in Louisville for almost five years and love taking trips to places just a few hours from town. Nashville has been on our list since we got here and this past Fall Break we finally loaded up the family and headed south to spend three days of our break exploring the Music City. My only regret is that we did not do it sooner. Nashville was packed with family friendly activities and attractions!
We arrived around lunch time on Thursday and headed straight to our hotel for early check-in. My oldest daughter has severe food allergies so we always stay at a hotel that offers a kitchen or kitchenette, as eating out can be challenging for us. On this trip we stayed at the Residence Inn in Brentwood, TN. We were fifteen minutes from downtown Nashville and the surrounding area offered lots of great restaurants and a Target, which we did stop in to grab some snacks for the hotel. The hotel was clean, offered a daily hot breakfast, and the staff was very customer focused.
After dropping our bags, we were off to the Nashville Zoo– which was only about 10 minutes from our hotel. We were able to tour the entire zoo in about 2.5 hours. The crowds were non-existent on the day we went so that aided in our quick tour through the venue. Some of the coolest features our family enjoyed were the kangaroo exhibit (you actually get to go in the area and they are hopping all around you), the red panda exhibit, and the historic mansion that is on the Zoo property (my girls loved seeing the old appliances, furniture and carts that were on display). After our zoo adventure we headed back to the hotel to cook dinner and rest up for our next day of Nashville fun.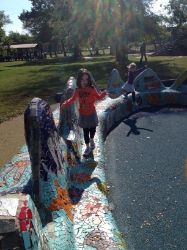 On Friday, our first stop was the Nashville Public Library Downtown. Not only is the building itself cool, but the children's library was amazing! We attended a variety show put on by Wishing Chair Productions that included puppets, juggling, and great music. It was held in a permanent theater located in the children's library. The best part- it was totally free! You can check the children's library website for a schedule of all of their free shows and story times. After the show, we hung out in the children's library to read books and play on the computers. We had packed our lunch and were planning to eat at a park, but there was a beautiful courtyard adjacent to the children's library so we ended up having our picnic right there (as did many other show attendees). Nourished and ready for more we headed to Fannie Mae Dees Park, referred to by those we talked to at the library as "dragon park". Located near the Vanderbilt medical center, it has a huge dragon sculpture that kids can climb and jump on. My girls had a blast walking on the scales and watching older kids climb up the dragons back. The park also offered a great play structure and many features were wheelchair accessible. We were there for hours. The only downside to this park, there were no public restrooms we could find. We then made way to the Demonbreun Hill neighborhood for a late day drink and snack. We were able to sit at an outside table at South, one of the many restaurants in the area, and the girls enjoyed people watching and some goldfish, while we enjoyed an adult beverage. We had planned to hit the Opryland Hotel that night, but realized after dinner that our fun morning and afternoon had wiped the girls out so we opted to stay at the hotel and watch a movie.
Saturday brought another gorgeous day so we headed to Cheekwood Botanical Garden. We were there during the Harvest Fall Festival. Admission seemed steep to me, over $40 for the whole family, but I was pleasantly surprised at all of the cool things the price of admission got us! We were able to take in free concerts throughout the park, an arts and crafts session that was very well run by staff members, a cool train exhibit (that even my princess-loving girls raved about), beautifully landscaped grounds that made a perfect picnic spot for us, and a very cool tree house that we got to play in. The highlight, however, was the free performance by the Nashville Ballet. My girls were in awe to be sitting so close to the performance and after the show was over they invited all of the kids to the stage area and taught them a few moves from the show. My girls are still talking about dancing with real ballerinas.
Since we nixed the Opryland Hotel from the agenda the night before we decided to stop there on our way out of town. You can visit the hotel for free, but apparently if you pull up to the main hotel entrance you will have to pay for parking. I read online that you can enter through the Opry Mills Mall parking lot and drive through to the hotel event center. There you can park for free and enter into one of back entrances of the hotel. It was a bit of a walk from the parking lot to the hotel, but totally worth it for free parking! Once inside, we were all amazed at the grandeur of the hotel. We opted to take the boat ride through the hotel (the Delta area) which was about $30 for the whole family, but you could easily save that cash and just walk through the four main areas of the hotel (Delta, Magnolia, Cascades and Garden Conservatory).
Although, my girls did get a huge kick out of riding a boat inside a hotel and the guided tour during the 15 minute ride revealed a lot of interesting facts about the hotel. Another cool feature we enjoyed was walking behind a waterfall in the Cascades area. In addition to cool sites, the hotel offers a number a specialty stores, restaurants and bars.
We packed in so much in three days and still feel like we left so much to explore on our next trip. Nashville is definitely on our list of great places to visit close to Louisville. Check out Nashville Fun for Families!
By guest contributor: Tami