Review of Pieology in Louisville, KY
First impression– that familiar sub place we all know so well meets pizza! Pieology is an average-sized establishment, that is rather interesting looking with modern pub-style seating in the center, and lower tables surrounding the outside. One of the inner walls is completely covered in quotes, which helps to pass the time, however small amount that it is. We'll get to that in a moment. Plenty of room to dine-in, or easy enough to go through the "assembly line" and take your pie to go.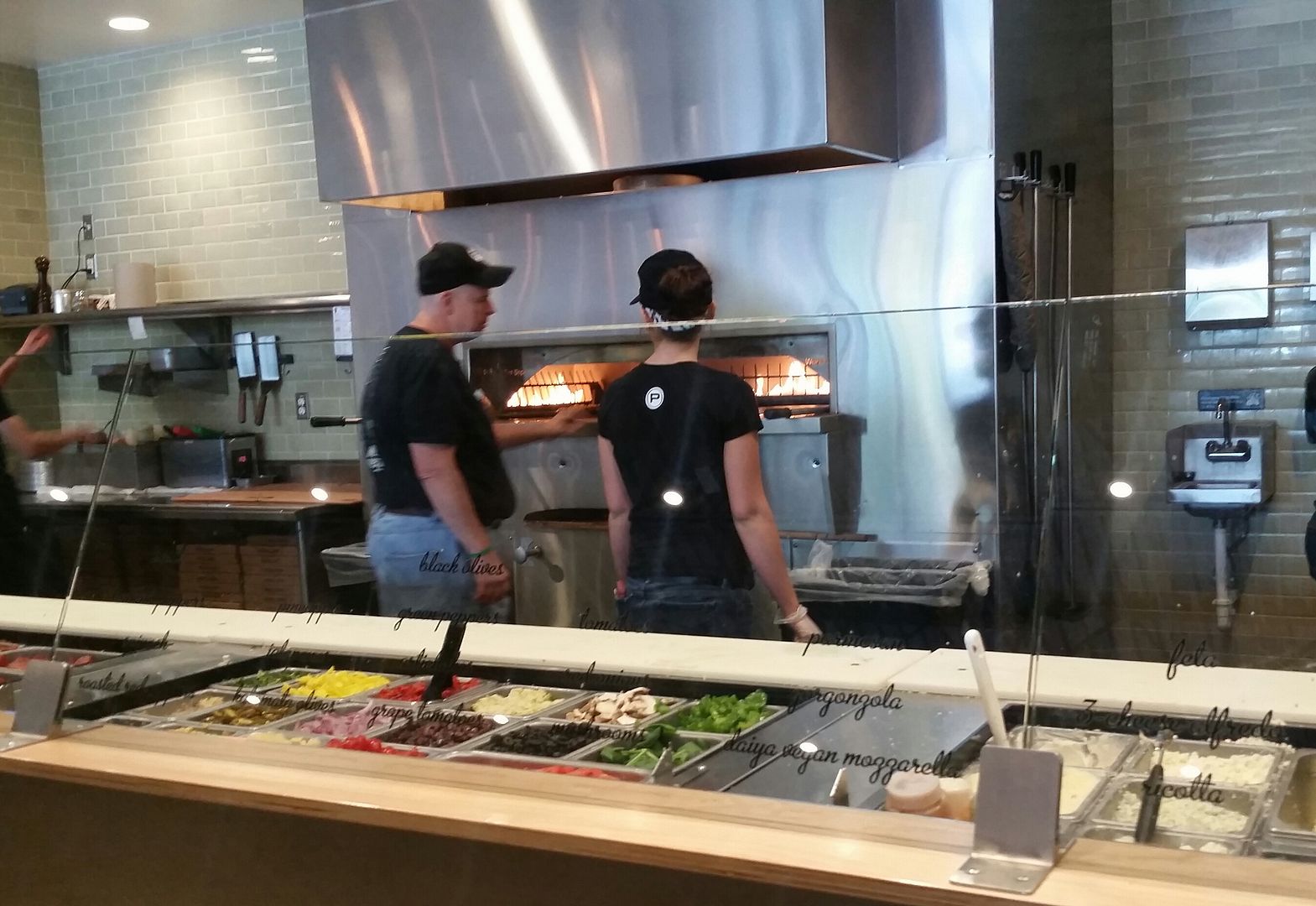 The object is pretty simple – Pick your crust, a house-made traditional or whole wheat (*gluten free is also available for an additional $2.00). Moving down the line, you then choose your sauce – classic red, alfredo, pesto, BBQ, buffalo, and a few others. Next comes the cheeses (there are many), then the vegetables, and lastly, the meats. And let me tell you, everything was as fresh as can be (*at which point I no longer compared it to "that sub place")! The selections are incredible too. A lot of options you wouldn't find available at your traditional pizza place.
Best part, I think, about these awesome, UNLIMITED TOPPING creations…… Every pie is just $7.50!!! Yes, that's right! We watched as the employees created each pie in front of us, and then stuck them in the fire burning stove visible in the back. The total time from creating the pie to coming out of the stove was 10-minutes, if that.
My kids stuck with the basic crust, red sauce, mozzarella cheese, and sausage, while my husband and I choose the whole wheat crust and went with an employee recommendation of a combination of a little red sauce and pesto, paired with feta cheese, and just about every vegetable they had to offer. Both pizzas were delicious, but I would definitely suggest the whole wheat crust over the standard. The kids absolutely loved their pizza, and my son, who's favorite food is pizza, said, "I wish we could eat here every day, and get a different kind every time!"
If you are not the creative type, or would just like a suggestion on what to try, they do offer a few "Pieologist's Favorites" on their menu, which are also just $7.50 each. There are also salads, drinks and desserts.
Pieology has definitely made it's way to our families' list of highly approved restaurants!!! Just how many different pies can you create?!?!?
2043 S. Hurstbourne Parkway
Louisville, KY 40220
502.749.7072
Open Daily 11am – 10pm
By Guest Contributor: Karen