Review of The Arctic Scoop Ice Cream and Frozen Yogurt in Louisville, KY
The Arctic Scoop
 is a really cool ice cream and yogurt store on Hurstbourne Parkway. What makes it so unique, is that they use liquid Nitrogen to cool the ice cream one order at a time. You choose a base (ice cream versus yogurt, etc), a flavor (theres a lot more than chocolate and vanilla!), and then an "add in" (fruits, nuts, candy, and other flavors). Then they chill your ice cream right in front of you with the liquid Nitrogen causing a cloud to form over the bowl and spill over the counter. My kids loved choosing what they wanted in all 3 columns, watching their order be mixed, and playing with the Nitrogen cloud as it spilled over.On the Saturday we went to the Arctic Scoop, they were having a cup cake decorating event (they have also done cookie decorating, card making, and are looking for other fun ideas to do on Saturdays!). For $2 per cupcake, my kids got unlimited, crazy, colored frosting and all sorts of candies to decorate with however they wanted. The staff was super nice, helpful, and generous. The cupcakes were all very unique and looked…very sugary! (They also have tasting nights, game nights, and other fun activities. Definitely check out their website for events).

We LOVE the large selection and delicious taste of their ice cream, and my kids are totally entertained by the Nitrogen process. All of their ingredients are natural and there is no need for preservatives. They also have gluten-free, dairy-free, low-fat, vegan and other selections for food sensitivities.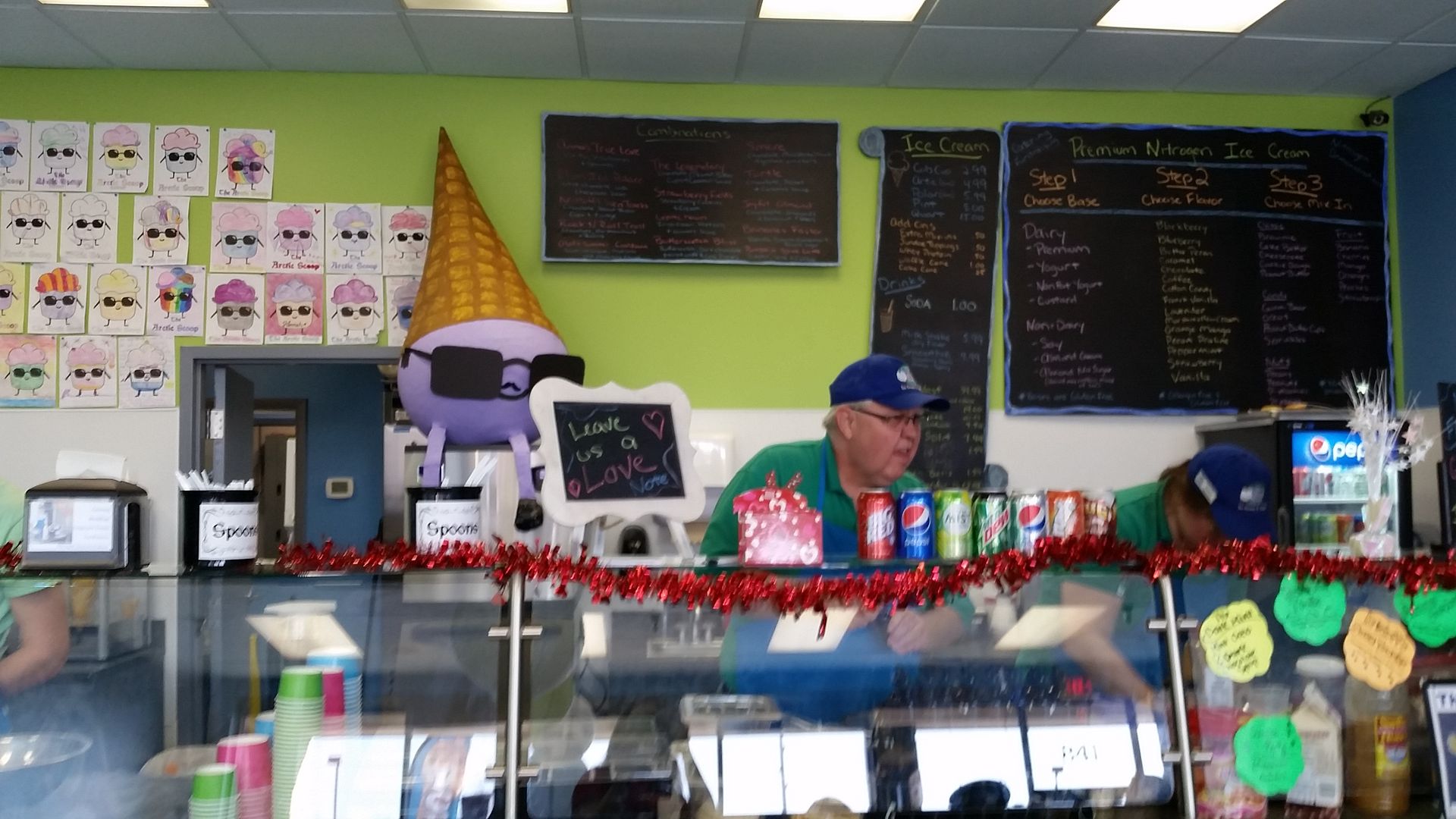 The Arctic Scoop prides itself on being a locally owned, independent store. They are always open to new ideas and flavor combinations. They do catering, liquid nitrogen demonstrations, parties and fundraising events. I highly recommend checking them out – try a Saturday afternoon and see what special thing they have going on!
By guest contributor: Caryn
Looking for more places to enjoy yummy ice cream? Click here