Free Things to do in Louisville – May 2016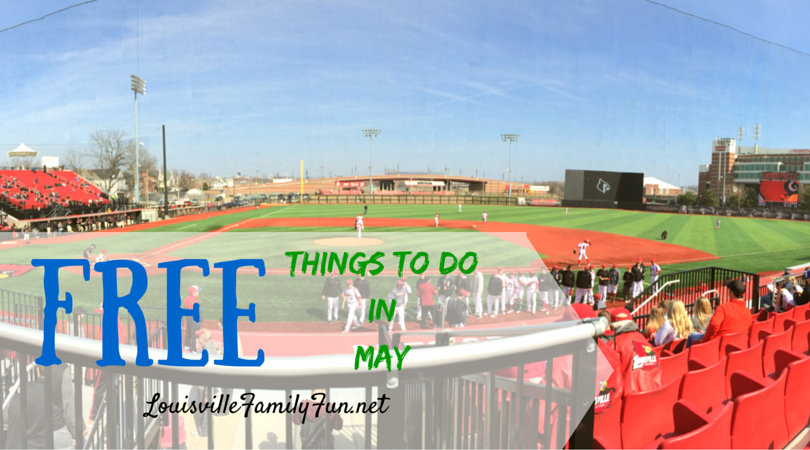 Every Saturday – Farm Animal Feedings at Blackacre Conservancy. Farm animal feedings, during which Farmer Larry and other volunteer animal feeders discuss feeding and caring for farm animals, will take place spring through fall on Saturdays at 9:30am. Visitors are always welcome to bring their own treats to feed the animals, but feed will be provided. Apples, carrots, and bread are farm animal favorites. Meet in the barn for this fun opportunity!
Every Sunday (Until March 2021) – Speed Museum admission is FREE 12-5pm.
Various May Dates – Shakespeare in the Parks at different parks in Louisville. Watch a performance of Romeo & Juliet on these dates: 5/1 Sun Valley Park 6pm, 5/13 Veterans Memorial Park 6:30pm, 5/14 Story Ave Park 6pm and 5/15 Petersburg Park 6pm.
Various May Dates – University of Louisville Baseball Games at Jim Patterson Stadium. Home games on 5/1 (12pm), 5/3 (6pm), 5/13 (6pm), 5/14 (1pm), 5/15 (1pm), 5/17 (6pm).
5/1 – Louisville Youth Orchestra "Papa Pops and There Off" at Iroquois Amphitheater. 4pm, doors open at 3pm.
5/2 – Broad Run Park Sprayground grand opening! Cool off and check out the newest section of The Parklands of Floyds Fork.
5/3 – Gateway Park in Clarksville, IN grand opening! 10am. Come explore the brand new park!
5/6 – "Seabiscuit" movie at Gateway Park in Clarksville, IN. Beginning at dusk.
5/6 – First Friday Trolley Hop. 5-11pm
5/13-14 – Mt. Washington Spring Festival. Friday 4-8pm and Saturday 9-5pm. Facebook page here.
5/14 – "How To" Festival at the Louisville Free Public Library (Main Branch). 10-3pm.
5/14 – "Hotel Transylvania 2" movie at Iroquois Amphitheater. 8:30pm, doors open at 7:30pm.
5/20 – "Junction Creek Band" concert at Gateway Park in Clarksville, IN. 7-9pm.
5/20-21 – Old Louisville SpringFest. Friday 12-9pm and Saturday 10-9pm. Kosair KidZone open on Saturday 12-6pm. Facebook page here.
5/20 – Jeffersonville Main Street's Concerts in the Park Series Warder Park, 7pm.
5/21 – FIT4MOM Louisville-Stroller Strides Birthday Party at Tom Sawyer Park. Arrive at 9am, workout begins at 9:30am. There will be a FUN workout, giveaways, refreshments, and lots of FUN activities for the kiddos!
5/21 – Forest Fest at Jefferson Memorial Forest. 10:30-7pm. Food trucks, craft vendors, kid's activities, workshops, field camping, silent auction and music! ($10 to park.) Facebook event here.
5/21 – St. Matthew's Street Festival. 11-10pm. This day-long festival held on Frankfort Avenue between Lexington Road and Bauer Avenue highlights the community's businesses, history, cuisine, and style. It also showcases the area's retailers, restaurants, and live entertainment. Family fun and activities include the free Kids Zone, Fun Zone and Wellness Fair.
5/25 – WFPK Waterfront Wednesday Concert. Doors open at 5pm, music starts at 6pm.
5/26 – Wave3 News Concert Series at the KFC Yum! Center. 11:30-1pm Outdoor concert with food trucks.
5/27 – RiverStage Concert Series Jeffersonville, 7pm.
5/28 – Flags4Vets National Memorial Day Vigil at Waterfront Park beginning at noon. Adults and kids are invited to assist with placing 15,000 flags on the North Great Lawn.
5/28 – Fleur de Flea Vintage Urban Market at Waterfront Plaza 10-6pm. Vendors from all over Kentuckiana are set-up selling their one of a kind goods, including vintage clothing, books, records, primitives, antiques, repurposed, recycled, collectables and so much more. Petting zoo, food trucks, music.
5/28 – Norton Commons "Music on the Water" Concerts Amphitheater 6:30-10pm
5/28 – Children in the Dell at Yew Dell Botanical Gardens in Crestwood every Saturday thru 8/27, 10:30-12pm, children are FREE with paid adult admission.
5/29 – Boomtown Ball & Festival in New Albany, IN featuring Flea Off Market, food & drink, music, family-fun. Gates open at 1pm.
5/29 – Cherokee Triangle Summer Concert Series Willow Park, 7-9PM
5/30 – Subway Fresh Fit Hike, Bike & Paddle at Waterfront Park. See the online schedule of events for times.
By Guest Contributor: Nicolle