Review of the new Gateway Park in Clarksville, IN
Gateway Park in Clarksville just had its grand opening, so my son and I ventured across the Lincoln Bridge to check it out!
The park is situated off of Eastern Boulevard (exit 2 off of I-65) on Little League Road. It sits next to Clarksville's Little League Park. It boasts large swings for families to enjoy, a huge clubhouse, two slides, a rock climbing structure, some natural type logs to step on and crawl through, and some play scenic mushrooms for balancing and walking across as well. There are also a couple of webbed structures to climb on. We noticed plenty of covered picnic and pavilion areas for packing a picnic to enjoy together. There are restrooms, a shelter, an event lawn and a covered stage area. Gateway Park also boasts a sprayground, and the water is already turned on for kids enjoyment!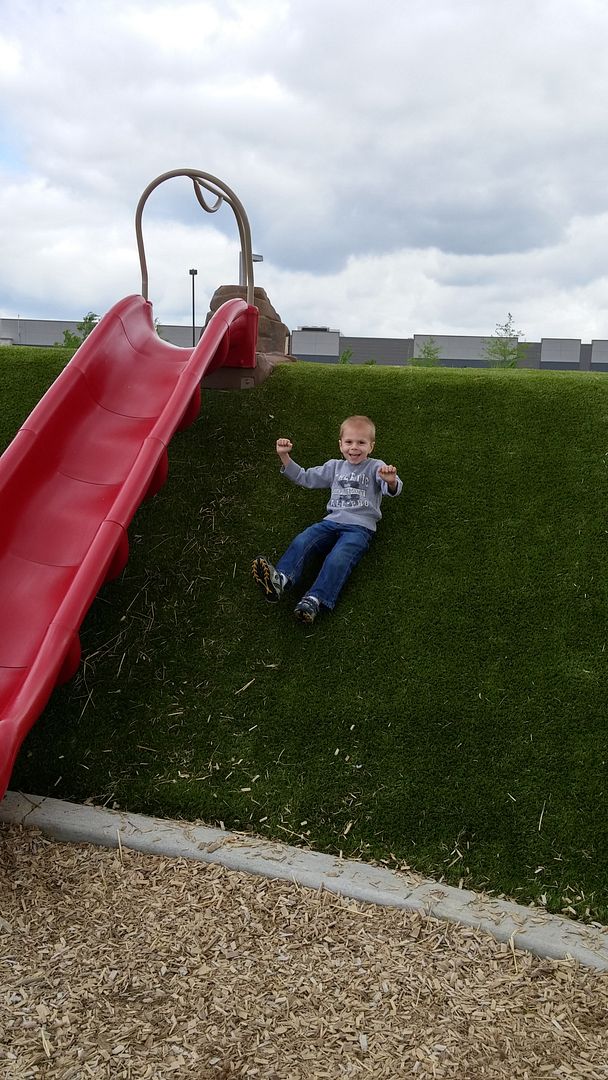 The park is smaller than some, but definitely has a lot of appeal for Southern Indiana residents! I found the large clubhouse structure needs some work, as the only way up or down is a set of steps that are pretty steep– especially for younger kids. The day we went it was not crowded, but I imagine I would get pretty nervous if many more kids were up there, and those trying to climb up would be also dealing with those trying to climb down. My child is sort of at a stage where he is afraid of heights, and he got a little nervous trying to climb up the steps and wanted me to come with him. Getting him back down was tricky! I did see on the Gateway Park Facebook page that they heard from park goers on the grand opening day that they should take some things into consideration, and here was part of their response: "Several people have commented about the false gate where the clubhouse meets the big rock. Others have expressed concern that the ladder is the only way down. Don't worry, the false gate is a temporary fix. We have ordered a slide that will allow kids to slide down from the top of the clubhouse rock, to the ground. We realized the clubhouse needed a slide or an alternate way down once the rock was put in place. We hope to have it installed as soon as it arrives." A slide would be a great addition as children could slide down from the clubhouse rather than trying to go back down the steps. My little guy loved the slides built into the hill, and I loved the AstroTurf as well. He actually loved sliding down the green space!
Gateway Park is beautiful, and they plan to host a number of events there such as concerts, outdoor movies, and more. Check it all out here!


By guest contributor: Erin