Review of MOD – A new pizza restaurant in Louisville, KY
My three kiddos (ages 9, 8 and 5) and I headed to try the new pizza place, MOD, in Hikes Point. It's located off Breckenridge Road in McMahan Plaza right next to the Park Federal Credit Union. MOD was easy enough to find, but parking was limited out front. We parked in the overflow behind the building, just had to be super careful because of the bank drive through and other shopping center drivers.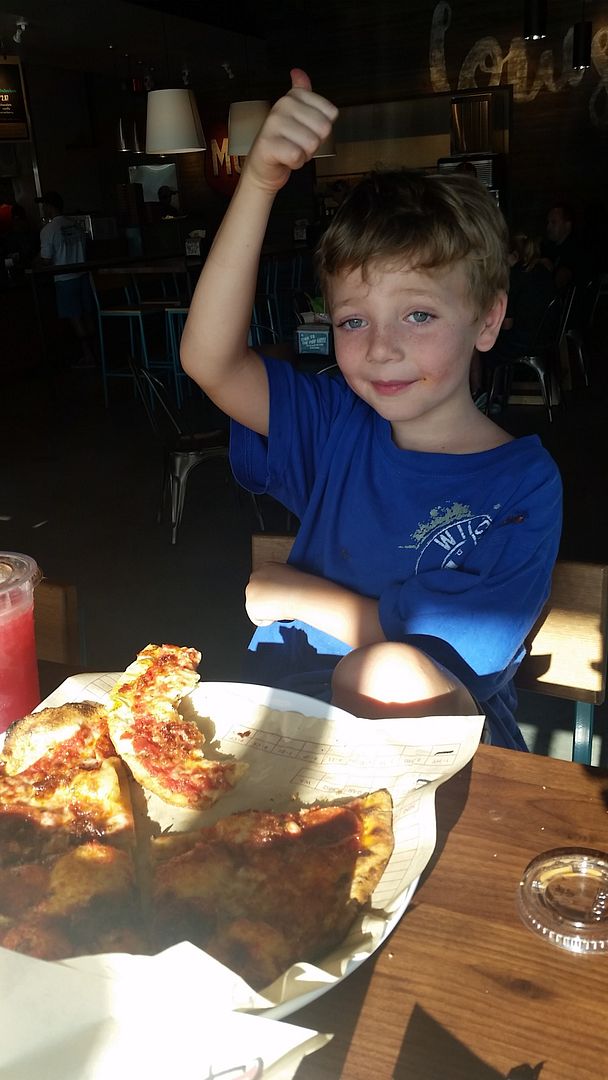 As soon we walked in, we were greeted by everybody behind counter with a big HELLO – like they had been expecting us. Granted, they had been, but it didn't take long to see that they greeted everyone who walked in with a boisterous HELLO!! When you first walk up to the counter, the menu board with prices is directly over the counter and there is another menu board to the side with some of the MOD favorite recipes.
When we approached the counter, a super friendly employee greeted us again and asked if we had ever been to MOD. We had not, so she explained the process. You choose one of two sizes of dough to make your pizza. 11" for $7.77 or a 6" for $4.77. They also have salad options available, but we went straight for the good stuff.
After you pick which size you would like, you start with the base (traditional red sauce, bbq sauce, garlic rub, etc.) From there you pick your cheeses, then proteins, then veggies. If there was a topping that was missing to choose from, I didn't notice. MOD has traditional toppings like pepperoni to more interesting choices like pineapple or artichokes. Best of all, I could tell the toppings were totally fresh and they looked totally delicious.
My kids each chose the larger 11" inch pizza and they loved loading them up with the toppings THEY on THEIR pizza. There was no arguing over someone wanting black olives and another gagging at the very thought. After we had our pizzas "just so," went to the cashier to settle up and got our fountain drinks (they also have beer and wine for the over 21 crowd), we had just enough time to settle in at our table before our order of garlic strips and cinnamon strips were brought out. At $2.77 each, they are absolutely a MUST try! Just a few short moments later, we were feasting on our pizzas and my kids were incredibly impressed with the job they did making their own!
My kids loved the fun atmosphere (everyone shouting out HELLO!), the energetic (and family friendly) music, the wonderful service, and how clean the whole restaurant was. For the four of us to each get an 11" pizza, 2 appetizers, and 4 drinks the total was around $40. We all had at least one slice of pizza left over. Theoretically, two of my kids could have easily shared an 11" inch– but then we would've argued over black olives – or each had a 6" and everyone would have had more than enough food. Especially considering that you can pile as many toppings on as you'd like!
We were able to walk straight in at 6 on a Friday night and get served immediately, but we noticed the closer it got to 7 more folks were coming in. However, even when a line did start to form, the MOD folks have their job down to a science and kept things flowing quickly and smoothly – smiling all the while.
My kids and I loved MOD and we will definitely be back!
By Guest Contributor: Dana