2017 Bucket List of Best Things to Do in and around Louisville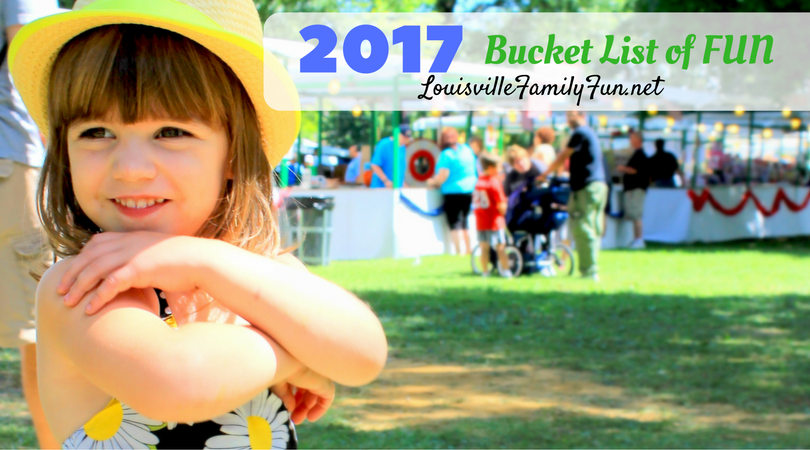 After a 1 year hiatus, the bucket list of fun events and activities in and around Louisville has returned! You'll find one suggestion for each month. For more ideas, be sure to check our calendar, follow our Facebook, Twitter and Instagram pages and read our monthly "free event" articles and seasonal lists.


January – Go ice skating! The Holiday Square pop-up outdoor ice rink on the Plaza at Fourth and Jefferson Streets remains open daily through 1/15. The outdoor Jeffersonville Skating Rink will be open through 1/13. Hop across the new Lewis and Clark Bridge in the East End and visit Charlestown, IN for outdoor ice skating through 1/28. Louisville also boasts two indoor ice rinks, open year round, Alpine Ice Arena and Iceland Sports Complex.
February – Have a basketball fan in the family? Watch the Louisville Cardinals Women's Basketball team play in one of four home games this month. Tickets are inexpensive and the team is impressive! The Cardinal Women play at home on 2/2, 2/12, 2/19 and 2/23.
March – Drive down to Bernheim Forest for a self-led or themed, guided hike. Check out their awesome children's programming offered on the first and third Saturday of the month. Weekend admission is just a $5 environmental impact fee per vehicle.
April – One of the biggest events of the year is Thunder Over Louisville. I'm always surprised at how many people travel to Louisville to see it, while so many locals have never attended in person. To simplify your first visit (especially with children) consider a ticketed venue, such as Slugger Field or Kentucky Science Center which offer perks such as indoor restrooms, seating, special views and additional entertainment during the day.
May – Forest Fest is a fun family event that takes place every May at Jefferson Memorial Forest. The 6,500 acre forest, located about 15 miles south of downtown Louisville, is a great place to visit any time of year! The Forest Fest event typically includes children's activities, food trucks, vendors, silent auction and more! Stay turned for the exact date, which will be listed on their website as well as on our Spring Festival list (typically published in March).
June – For the past few years, the city of Louisville has offered a FREE Cultural Pass to all 0 – 21 year olds who are eligible for a Louisville Free Public Library Card. This includes Jefferson County residents, as well as non-county residents who work or own property in Jefferson County. The pass is typically valid for the length of summer break and includes free entry to many local attractions and events! The Louisville Free Public Library will publish details on their website as summer nears.
July – Kentucky Kingdom is open every day throughout the month. The theme park offers rides for the whole family. King Louie's Playland area includes 12 rides for the park's smallest visitors. There are thrilling coasters, water rides in Hurricane Bay and even a sea lion show in the park's Aqua Theater. Kentucky Kingdom has new additions each year, so if you haven't been in a while, you may be surprised!
August – The 168th annual St. Joe's Picnic takes place August 11th and 12th. The picnic includes musical entertainment, games and, of course, food! It's a tradition older than the Kentucky Derby! Proceeds go to provide a home safe to abused and neglected children.
September – WorldFest is an annual event that is both entertaining and educational. There are three stages featuring various entertainers from different cultures. There is a Global Village, Parade of Cultures and even a Naturalization Ceremony. Of course, one of the crowd favorites is the food! There is no admission charge for WorldFest. The event takes place September 1 – 4 on the Belvedere at 5th and Main Streets.
October – Want to be wowed? Check out the Jack-O-Lantern Spectactular at Iroquois Park! The event takes place October 12 – November 5 and features 5,000 carved, lighted pumpkins along a quarter mile trail. Proceeds benefit the Louisville Metro Parks Foundation.
November – The 28th annual Festival of Trees and Lights takes place at Louisville Slugger Field. The dates aren't posted yet, but it's typically the second weekend of November. Friday night is Family Night with entertainment for kids and opportunities for guests to shop for holiday decor. In previous years, Santa has been present and there has even been a fireworks show. Saturday and Sunday, enjoy hundreds of decorated Christmas trees, wreaths, and hand crafted holiday items. The Norton Children's Hospital website will be updated with details later in the year.
December – If you're looking for great holiday events, Louisville and Southern Indiana have plenty to offer! We publish a giant list of events shortly after Halloween, so be sure to check it out. For a little something different, we recommend the Old Fashioned Family Holiday Festival at Riverside – The Farnsley-Moreman Landing. Adults will enjoy touring the historic home fully decorated for the holidays. Kids will enjoy crafts and photo opps with Santa. There will be craft vendors, horse-drawn carriage rides and more! Details will be posted later in the year on their website. The event usually takes place the first Saturday of the month.


By Guest Contributor: Brandy