Camps for Oaks and Derby Days 2017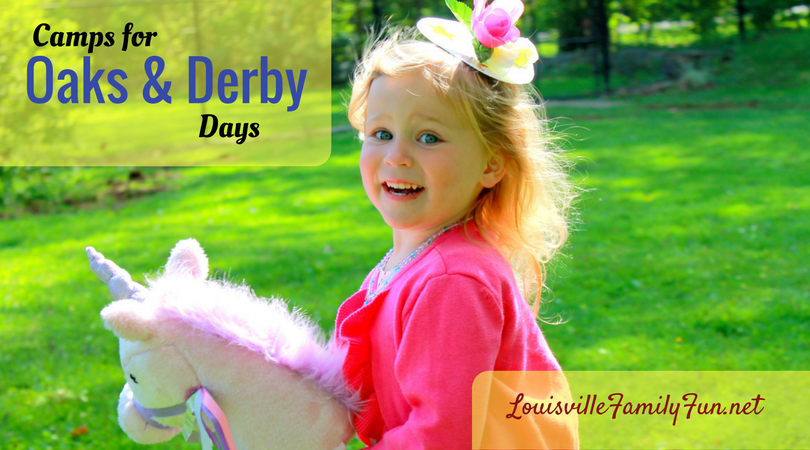 Oaks and Derby Day Camps:
Abigail Academy– 9 a.m. – 10 p.m. Girls will play Derby/Oaks-style dress up, make breakfast, lunch, and dinner, work on artsy Derby themed projects and more!
All About Kids Louisville Location– Oaks day- all day camp from 9 a.m. – 5 p.m. Early drop off and late pick up available for an additional cost. Derby day- all day camp from 9 a.m. – 8 p.m. Preregistration required.
Camp HiHo– 9 a.m. – 7:30 p.m.  Lunch and dinner provided. Optional transportation. Fishing, archery, boating, arts and crafts, basketball, dodgeball, zip line, rope swings, tree forts, horse-riding horse brushing, pet barn, plus fun horse racing-themed games and competitions.


Ohio Valley Volleyball Center– 8 a.m. – 8 p.m. Partial day camp sessions also available. Activities include: Volleyball, Basketball, Whiffle Ball, Kick Ball, Soccer, Arts and Crafts, Face Painting, Relay Races, Corn Hole, Bean Bag Toss, Ladder Toss, Board Games, Movies, Smoothie Stations and more.
Main Event  – Both days, 10am-3pm or 3pm-8pm. ~$50. Includes food, games, and activities.
Power and Grace Gymnastics Horsing Around Camp–  8 a.m. – 5 p.m. Partial day camp also available.
YMCA Camp Piomingo Derby Camp– May 5 – 7. A weekend full of games, songs, horsey arts & crafts, traditional Derby foods and furlongs of fun. Watch the famous race & cheer for your Derby favorites. A one-way bus is provided for campers on Oaks Day for an additional fee. Ages 6 – 16.
Oaks Day Only Camps
Hwang's Martial Arts– All day camp. Watch their website and Facebook page  for details.
KaZoing– 9 a.m. – 5 p.m. Half day morning and afternoon options also available. Jumping, art and games. Tot Lot available for younger kids.
Kentucky Science Center– 8 a.m. – 5 p.m. School's Out Maker Camp. Theme varies per age group.
STEAMPunk Parent's Night Out– 6:30 – 10:30 p.m. Fun-filled movies, games, pizza, arts and crafts, and maker stations! Age 4 – 13. Activities tailored appropriately for each age.


Turnip the Beet– 9 a.m. – 2 p.m. Oaks Day-Derby Foods. Includes lunch. Ages 7 and up.
Youth Performing Arts School– 11 a.m. – 7 p.m. Ages 5 – 14. Theatrical activities, games, skill training and dinner. The day will culminate in a sharing with parents. For more information and to pre-register, contact Katie Blackerby Weible at Katherine.Weible@jefferson.kyschools.us or call 485-8355, ext. 3220.


By Guest Contributor: Brandy