Review of Cocoberry Pops in Louisville, KY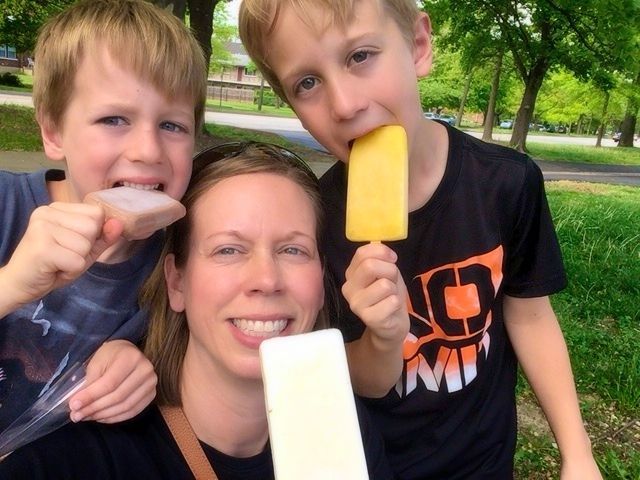 My family has been patiently watching and waiting for Cocoberry Pops to open on the corner of Southern Parkway and Woodlawn Ave in the South end and we are excited to say it is now open and ready for business! Cocoberry Pops' goal is simple: to make delicious and healthy pops like they were meant to be, from real ingredients and local, organic fruits. Because it was so good we went two days in a row and if I allowed it, we would be going every day!
Cocoberry Pops has fruity and creamy pops and their flavors change regularly. My favorite was maple walnut and my youngest son would eat the chocolate pop all day every day if I let him! My oldest tried the orange and loved it! I also tried the strawberry lemonade which was sweet with just enough tart to make for a delightfully refreshing treat on a hot day! Behind a large window in the store is where the pops are made and you are welcome and encouraged to watch. Other flavors that have been offered include: coconut, coffee, lime, and vanilla bean. Pops are $3 each or 4 for $11 and can be taken to go as well (they will pack it up for you with an ice pack so it doesn't melt).

Cocoberry Pops has ample seating inside and has recently added a few benches outside for those wanting to enjoy some fresh air. Plenty of parking is available in front of the store and cash and credit cards are accepted. This makes for a great stop before or after a trip to Iroquois Park, after a bike ride down Southern Parkway, or a stop at Iroquois Library. Cocoberry Pops is located at 323 W Woodlawn Ave.
Per their Facebook page, they have also opened a Frankfort Ave. location.


By Guest Contributor: Kelly