Review of Malibu Jack's Indoor Entertainment Center in Louisville, KY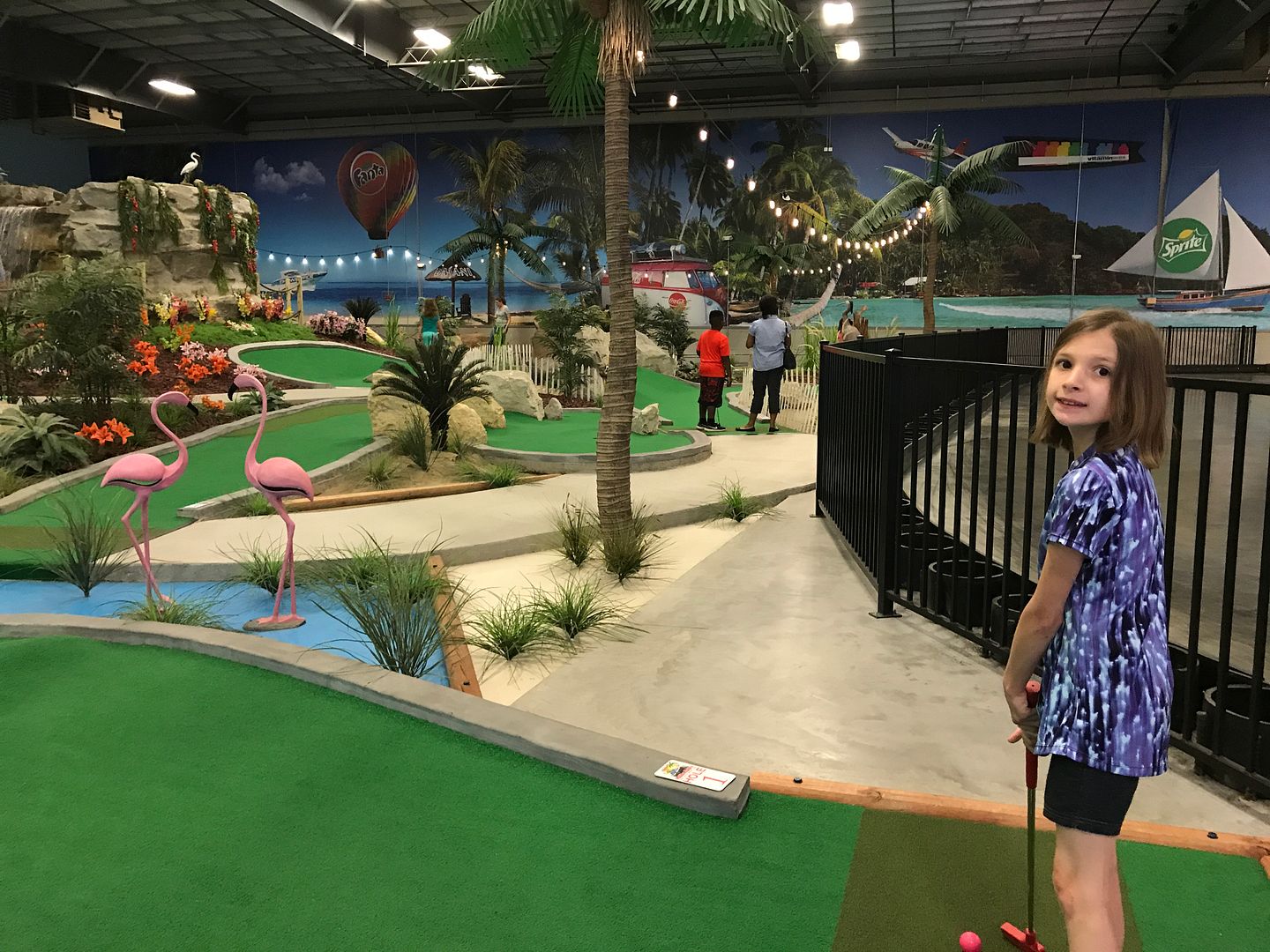 On a summer afternoon, I had the opportunity to enjoy some time alone with my 8 yr old daughter. I presented her with some options over lunch, and Malibu Jack's won her vote. Under the Deals tab on LouFamFun, I found a link to a Groupon deal; a $20 Malibu Jack's card for only $10. Score!!
Malibu Jack's is a Kentucky-based indoor entertainment center with two locations- one in Louisville and another in Lexington. We visited in the middle of a Monday afternoon and it was not crowded. I presented the Groupon deal on my phone and received our $20 card. Malibu
Jack's cards are the currency for all activities and games inside the center. My daughter was immediately drawn to the Malibu Golf, an 18 hole mini-golf course complete with a waterfall. We found the course to be in very nice condition. It was challenging, but not frustrating. My daughter even hit a lucky bonus shot on one hole, resulting in cheers from all who witnessed it!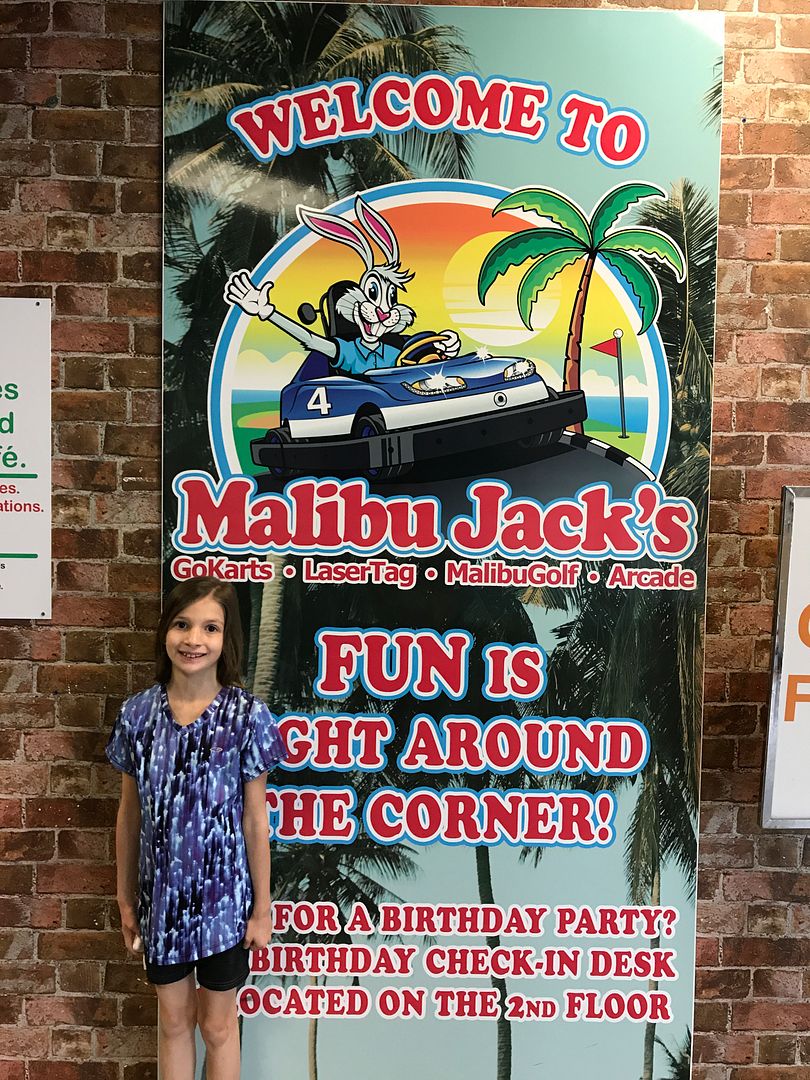 After golfing, we decided to check out the arcade. We had fun playing a few skill games; tossing balls into milk jugs, bouncing a ball into a cup and a water gun game with rubber ducks. My daughter also liked "gambling" for tickets on a couple of chance games. We both enjoyed playing air hockey and had a blast on the simulated roller coaster ride. The arcade area was bright and clean, and it was easy to play any game with a swipe of the card. All tickets earned were added to the card automatically, and there was a card reader near the front desk where we could check our dollar and ticket balances. The offerings in the prize area were tantalizing, of course, so my daughter checked our ticket balance often!
The GoKarts looked super fun, so we added some more money to our card so we go for a ride and play a few more games. Guests load a card with as money as they choose, but extra bonus dollars are given for adding certain amounts. For example, I added $20, so and received an extra $2 on our card. My daughter wasn't tall enough to drive a GoKart, so we rode together. We had an absolute blast on the GoKarts even though we were the only kart on the track! The track is twisty and we were allowed to go around it several times. The kart went fast enough to make our eyes water! I will definitely have to bring my husband and son with us next time so we can race!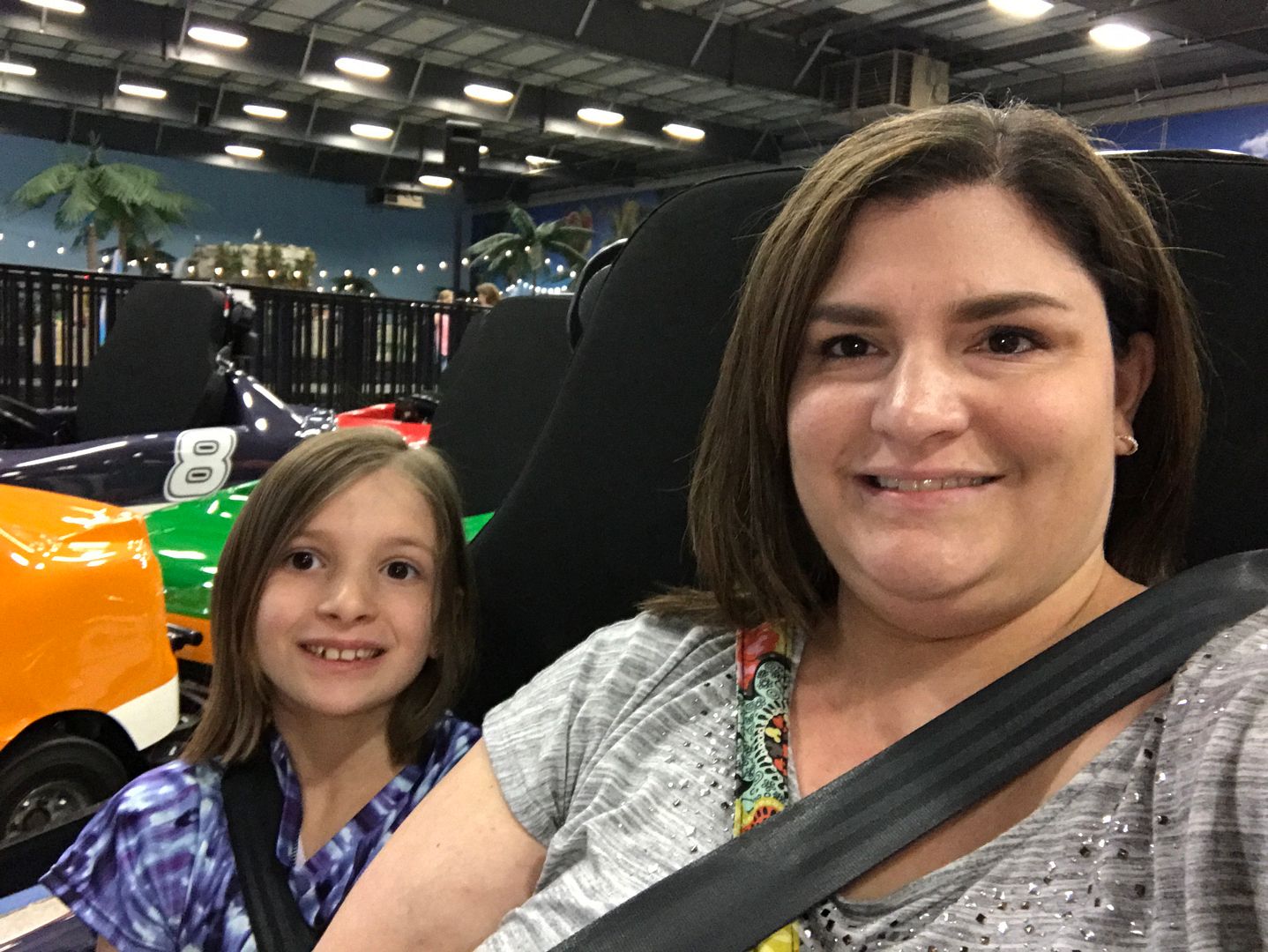 Malibu Jack's offers other attractions that we did not try on this visit. We noticed a playground/inflatable area what looked especially nice for younger kids. I could see good potential for parents of preschoolers to meet up at Malibu Jack's to chat while their kids explored that area for a set fee. There were some hover-style bumper cars as well as laser tag, which looked fun, but we decided those attractions would better with a bigger group. The
website
also mentions a 4-D Motion Theater which I must've totally overlooked. Malibu Jack's has a large cafe with offerings such as pizza, quesadillas, hot dogs, nachos, pretzels and, of course, ICEEs.
I found the attraction prices to be in line with other indoor arcade type places. It wouldn't fit our weekly budget, but it's a fun outing for a once in a while treat. I could imagine popping in to just do one thing before or after catching a movie at the nearby Xscape Theater. Malibu Jack's also offers 2 different birthday party packages, with additional add-ons available. Parties are for a minimum of 8 guests. Cake can be brought in to Malibu Jack's, but ONLY if you book a party. I'd definitely recommend checking out Malibu Jack's if your looking for a place to escape the heat this summer!
By guest contributor: Brandy