Review of Paddleboarding with Endless Summer Paddle at Taylorsville Lake
Writers were granted free admission for purpose of review.
Recently, some LFF writers and their families were able to enjoy a couple hours on the water at Taylorsville Lake State Park. We went out with a company called Endless Summer Paddle. They supply the paddleboats, paddles, life vests, instruction, and guides. You can go out on the water with a guides like we did, or you can rent the equipment and go out on your own. When we enjoyed the 2 hour experience (summer 2017) it was $40 per board to go out on their 2 hour instructional tour. For rental, $20 for the 1st hour and $20 for each additional hour per board. Their rule of thumb is that kids 10 and up can have their own board, but an 8 year old in our group demonstrated good balance and control of the board, and they had no problem letting her have her own paddleboard. Please not that during periods of high debris in the paddleboard area, the company prefers to have children ride on their parents' boards.

It was very easy to sign up online, and several emails prior to our visit clearly walked us through everything we needed to know. They even provide a link to a video about what you'll need to bring (sun block, hat/sunglasses, towel, water to drink, and water shoes). We also watched a paddleboard instruction video on YouTube right after the Endless Summer Paddle video, which helped us (especially the kids) feel prepared.
The instructors were incredibly friendly, kind and patient. They were safe, but still allowed room for fun for all ages. In the water, the instructors had a great balance of teacher and co-paddler (if that makes sense). They kept a nice distance for free paddling, but were always aware of when they needed to help or their instruction was necessary.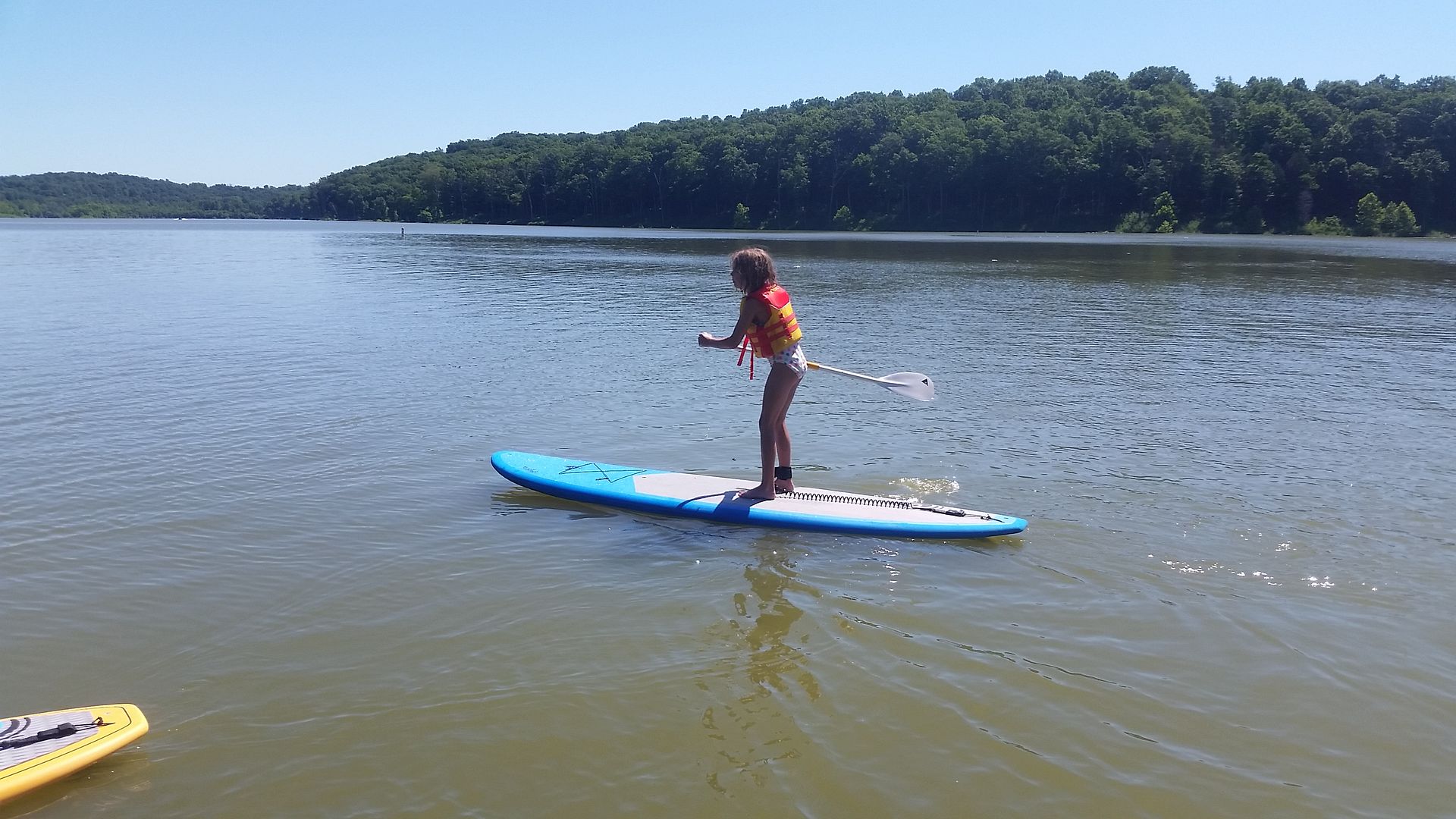 Taylorsville Lake has a rocky area by the boat ramp where you get on the paddleboards, so wearing shoes on your feet is necessary (flip flops will work too). It's recommended to bring a waterproof phone case for your phone to take good pictures and keep your car keys dry while you're on the water. On our outing one of the guides stayed on shore and kept things in his bag to keep them dry. Each paddleboard also has an elastic tie down for your shoes and water bottles to keep them safe if you flip your board. One family didn't bring water bottles and they did get pretty thirsty by the end. A camelback-style backpack would be a great idea for water if you have one!
My family had a great time. Most of us wanted to stay out longer than the 2 hours and explore the lake, but it can be very tiring if you are paddling the whole time. It feels like a great workout, whether you're sitting, kneeling or standing. For more exercise, the guides offer a paddleboard yoga class on the lake too! The kids loved the waves created by nearyby boats, but it can be a balance challenge.
For those who enjoy the sights, it is enjoyable to just take a seat and look around at all the beauty. The kids tried to find signs of wildlife along the shoreline, and spotted some fish jumping out of the water. For maximum comfort, visiting very early or very late in the day (rather than midday direct sun) is recommended.
My kids are already asking when the next time is we can go paddleboarding again! It's a fun activity for the entire family, regardless of skill level.
By Guest Contributors: Caryn, Nicolle & Karen