Kids Consignment Sales around Louisville, Fall
This is a partially sponsored post.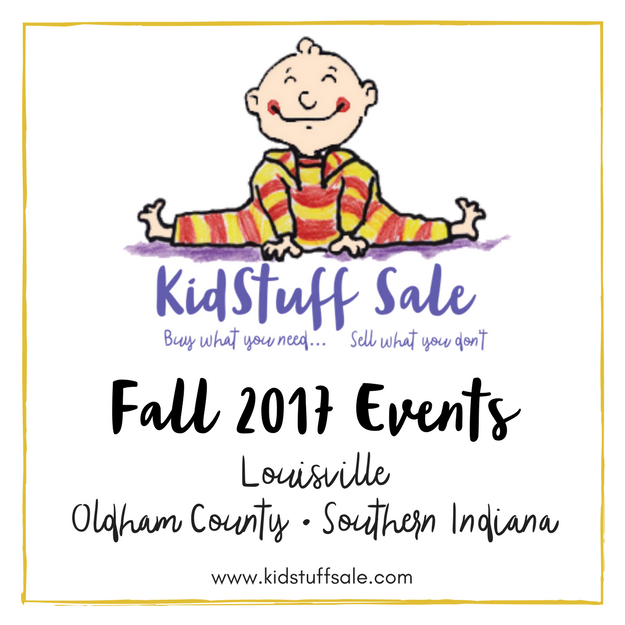 KidStuff Sale is Kentuckiana's original children's consignment event and can help you make the most of your family's budget. For over 20 years, KidStuff Sale has been the one-stop shop for parents and families looking to stock up and save on everything they need for their kids. Our events consistently draw thousands of local parents and grandparents ready and willing to shop big. KidStuff Sale consignors earn more for their items than at yard sales or local consignment shops.
KidStuff Sale provides a wide variety of high-quality items at even better prices. Our merchandise includes children's clothing, indoor and outdoor toys, strollers, car seats and high chairs, bikes, books, games, nursery items, and much more.
KidStuff Sale is independently owned and run by and for local families.
For Fall 2017, we'll be in three locations.
* Our Louisville event is at the Ramada Conference Center on August 24-27.
* Our Oldham County event is at the Oldham County Family YMCA on September 15-17.
* Our Southern Indiana event is at the Southern Indiana Sports Complex on September 22-24.
Visit our website or Facebook for more information about consigning. See you soon!
Kentucky Kids Consignment Elizabethtown Sale features everything babies, kids, teens, and expecting moms need! We'll have toys, furniture, infant gear, toys, shoes, hundreds of Halloween costumes, bedding, books, games, toys, women's handbags, sports equipment, toys, DVD's, accessories, and did we mention toys? With over 700 sellers and 75,000 items, there should be something for everyone!
Sellers earn at least 70% of each item's selling price. Our Preferred Sellers who help during sale week are the first to shop at two exclusive presales.
Located less than 3 miles from exit 94 of I-65 in Pritchard Community Center, 404 S. Mulberry Street, Elizabethtown, just a quick drive from Jefferson County.
Find us on Facebook, Twitter, and Instagram and visit our website for more details.
Open for shopping:
Wednesday, September 20 from 7 pm to 9 pm for our VIP Presale – tickets $12.50 and VERY LIMITED! This is the only time there is an admission charge to shop!
Thursday, September 21 from 9 am to 8 pm
Friday, September 22 from 9 am to 8 pm RESTOCKED with new inventory!
Saturday, September 23 from 9 am to 4 pm with many remaining items half price!
RSVP "going" to our Facebook event page for updates, contests, and giveaways!
Little Treasure's Kid's Sale February 3-6 Wednesday-Saturday 10-8, Kentucky Expo Center
Kidstuff – Louisville February 16-19 Thursday: 9 – 8, Friday: 9 – 8, Saturday: 9 – 4 (50% off), Sunday: 12-2(Dollar Dash) Triple Crown Pavilion 1780 Plantside Drive Louisville, KY 40299
Lots 4 Tots Kids Consignment Sale March 17-19. Thursday and Friday, 10-7, Saturday (most items half price this day): 9-6. Shelby County Fairgrounds in the Floral Hall building. 1513 Midland Trail, Shelbyville, Ky. 40065
CCUM Pass It On Kids Sale March 18th, Friday 9 to 2 Christ Church United Methodist, 4614 Brownsboro Road Louisville, KY 40207
Kidstuff – Oldham County September 15-17. Friday 5-8, Saturday 9-4, Sunday 11-3 (50% off). Oldham County Family YMCA,20 Quality Place, Buckner, KY, 40010
Duck Duck Goose Consignment Sale September 20-23. Open daily 10-8, Saturday half price sale. Clarksville Towne Center. 706 E Lewis and Clark Pkwy Clarksville, IN 47129
Kentucky Kids Consignment Sale March 17-19. Thursday, 9 – 8. Friday and Saturday, 9 – 4. Bluegrass Sports Complex, 208 Peterson Drive, Elizabethtown
Kidstuff – Southern Indiana September 22-24 Friday 5-9, Saturday 9-1, Sunday 12-4 (1/2 price off many items). Southern Indiana Sport Center, 620 Park East Blvd., New Albany, IN 47150
Saint John Kid's Kloset Consignment Sale October 6-7. Friday, 9 – 7, Saturday, 9 – 1 (1/2 price day). Saint John United Methodist Church, 12700 W. Highway 42 Prospect, 40059
St. Paul United Methodist Church MOPS, October 13-14. Friday, 9 – 1 and 5 – 7, Saturday, 8 – 2 (1/2 off most items) St. Paul United Methodist Church, Family Life Center Gym, 2nd floor, 2000 Douglass Blvd
Bullitt County Kids Sale Dates and Times TBA. 395 Paroquet Springs Conference Centre
Kidstuff Oldham County September 9 – September 11 YMCA Soccer Complex, 10 Quality Place, Buckner, KY 40010 Friday, 5-9, Saturday, 9-4, Sunday 11-4 (half price day)
Sweet Repeats Kids Consignment Sale TBA. Friday 8-8, Saturday 8-3. Abraham Lincoln Post 167 (Legion Hall). 202 Downs Lane, Bardstown, Ky 40004