Review of topp't Handcrafted Pizza & Chopped Salads in New Albany, IN
Complimentary food was provided in exchange for this review.

This past week my family and I were given the opportunity to try out topp't Handcrafted Pizza & Chopped Salads in New Albany. We went on a Friday night and the line was about 8 people long, but it went fast! It was just enough time to look over their menu and figure out what we were going to order.
My daughters each got a topp't kids meal which included a 1 topping mini pizza, drink, and s'mores chip for $4.99. I have been to other pizza restaurants that didn't offer kids meals, so I loved that they had this option. Also, kids eat free on Wednesdays, so that's a great time to visit!
topp'd has around 10 signature pizzas that are $5.69 for a mini and $7.99 for a full. My husband ordered the Bacon Cheeseburger pizza and thought it was very good. Some of other signature pizzas offered are Carnivore, Margherita, Hawaiian Flare, Chicken Bacon Ranch, Veggie Delight, Buffalo Blue, and the Hot Mama! I opted to build my own pizza. You can choose from 4 different doughs, 7 different sauces, 6 different cheeses, and many different veggies and meats. I got unlimited toppings for $8.99 and my pizza was delicious!
After all our pizzas were made, they put them in the New York Style brick oven for a few minutes. While they were cooking we got our drinks. Topp't had several different lemonades to choose from as well as other drink choices. One of the workers called out our name and brought our pizzas to us soon after we sat down! There was very little wait time.
Everyone enjoyed their pizza. Since the kids cleared their plates, we got some dipped ice cream cones for dessert. They were only $1 (it said introductory price so I'm not sure how long that price will last). They had butterscotch, chocolate, and cherry dipped cones. They also had chocolate chip cookies, s'mores sticks, and cinnamon sticks as dessert options.
topp't also has chopped salads. You can get a half, full, or wrap. There are some signature salads such as the Far East, Orchard, Buffalo Blue and Southwest, or you can craft your own.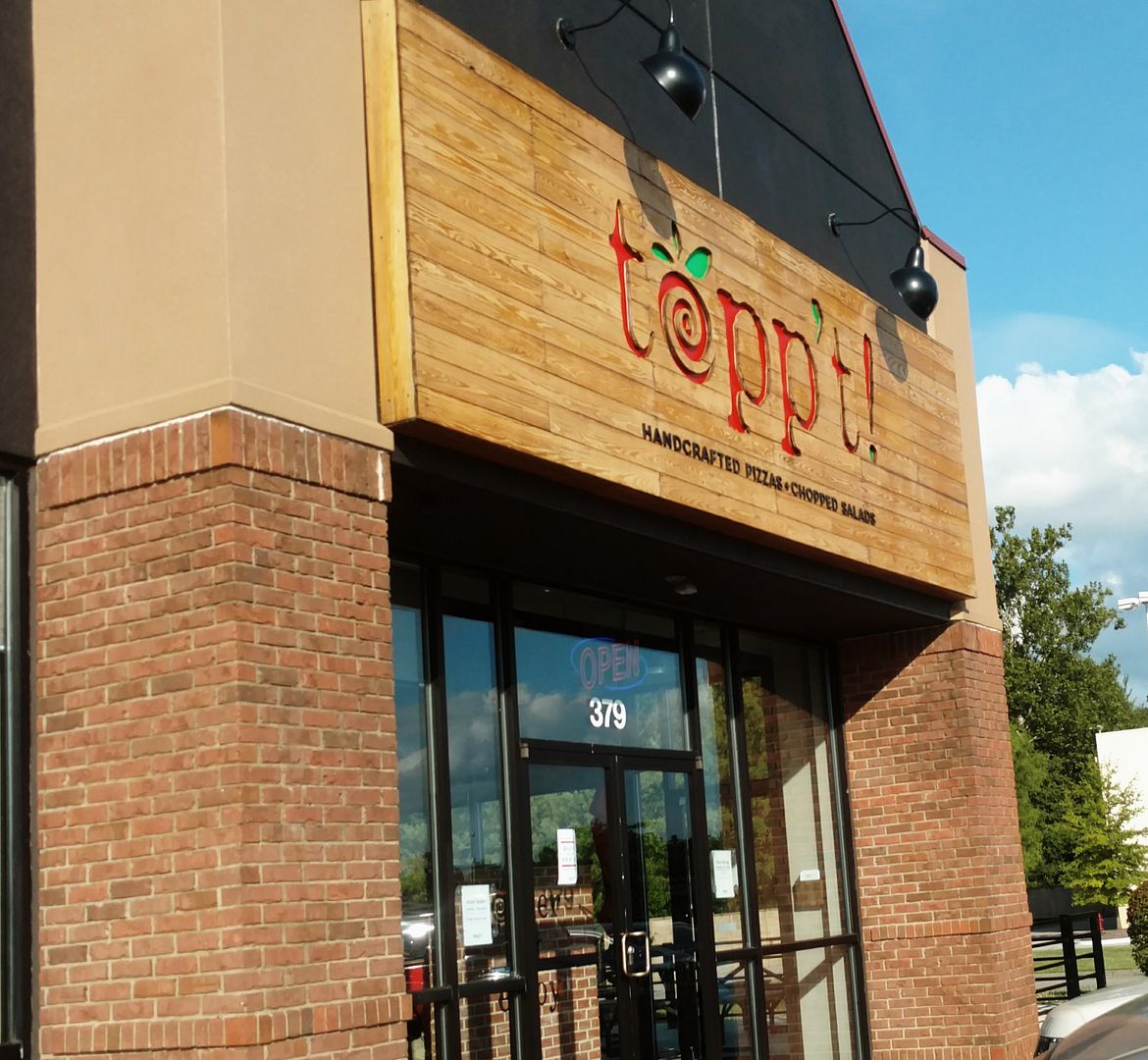 If you're in New Albany be sure to stop by and give topp't a try.
Check out some of these great New Albany events/activities and then stop by topp't for lunch or dinner.
– Farmer's Market on Saturday mornings
– Free family fun workshop every month at the Carnegie Center
– Harvest Homecoming
– Visit Riverfront Amphitheater
– Shop on Main Street
By Guest Contributor: Kimberly