Mighty Titan Mud Run at Fun Farm – Coupon Code
Head to Corydon, IN to
The Fun Farm
for mud race fun for kids ages 4-14.
Mighty Titan Adventures
Fall Farm Series is a what readers are always asking for ……. ideas for fun outings with their middle-schoolers, this is it. Of course, kids in elementary school will have fun as well! Take your child and their friends for a jaunt in the mud.


After you get cleaned up from the race and you are in Corydon, what do you do? Visit Main Street Corydon and find a local lunch spot and explore this quaint Indiana town! Point Blank Brewing Company is very good, delicious pizza.
Saturday, September 16
9:00 am – 1:00pm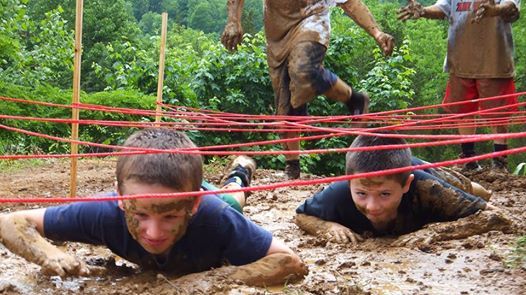 The competitive waves will begin at 9:00am and last until 10:00am. They will start the older kids (junior high and up) in the first waves followed by younger. The Titan awards will be at 10:30am.
Waves go off every 10-15 minutes.
After 10am, the course will be completely open for fun for everyone!
The Mud Run course is roughly 1 mile over obstacles, through mud, inflatable slide and water dash. Get rinsed off at the end by the Fire Department! Although the Mud Run is geared towards kids ages 4 – 14, anyone can register, including parents and family members, though only kids will get shirts. All participants receive a finishing award & refreshment!


Save $10 with code LFFMUD when you register online in advance.
Here's an FAQ: Parents, you can float alongside your kids (outside the trail or course) to help them with the obstacles for free if you think they need help. Step in to help with obstacles then step back out. If you want to run on the trail/course and do the obstacles, then you must pay to enter.