Easter Events and Egg Hunts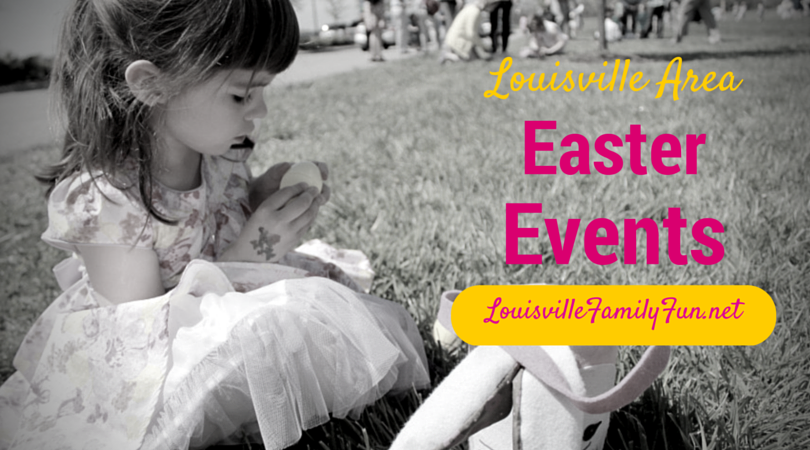 Ready for a taste of Spring? 
Check out our fun list of Easter HOPpenings around Louisville!
March 10 & 11
Decorate eggs at Learning Express – they will have the Egg-mazing device out all day for people to try it out. Both Saturday and Sunday during their business hours.
March 17
Easter Bunny Appearances at Zeggz (Lime Kiln) from 9am – noon.
All Our Eggs in One Basket at Hallmark Gold Crown in Paddock Shops – from 2-4pm, meet Agent Chick Bunny and Kim Detherage CEO of "All Our Eggs in One Basket"!!! They will demonstrate their product and how it teaches children with kindness, responsibility, empathy and earn rewards for good deeds! Coloring pages, egg hunt and grand prize.
SBAK Egg Hunt
for children affected by Spina Bifida and their families. From 1-3pm
March 25
Buffalo Trace Egg Hunt 11am-2pm. An egg-citing event for children and parents! Search for thousands of treat-filled eggs, plus enjoy refreshments and pictures with the bunny. All activities are complimentary. Areas will be marked off for children ages 2 and under, 3-4, 5-8, and 9-12. Register online. *SOLD OUT*
Community Wide Easter Egg Hunt from 12:30 – 1:30pm. Join us for our Community Wide Annual Easter Egg Hunt. Children through age 11 are invited to bring your basket and join the fun! All are welcome.
March 30
Decorate your own Easter photo frame at Cabela's – 1 – 4pm. Free, while supplies last.
March 31
Clarksville Parks & Recreation Egg Hunt at 10am. Free event at Colgate Park, children ages 1-12 can hunt for thousands of candy-filled eggs. After the hunt, kids will get the chance to meet and take pictures with the Bunny. Pre-registration is not required for this event.
Egg Hunt at Atria Springdale at 10:30am for children 10 and under. RSVP by 3/30.
Easter Eggspolsion at Graceland Baptist Church – 10:30am – 1:30pm. Food, inflatables and an eggspolsion!
26th Annual Frankfort Avenue Easter Parade runs from Stilz Ave. to Pope Street, 11:30am – 1pm. Floats, flags and lots of candy! Be sure to bring a bag to collect candy. Kids' hat making table in front of the Crescent Hill library before the parade from 10-11am, the kids can walk in the parade and be in the contest at the end of it.
Easter Egg Hunt at Portland Promise Center – 11am – 2pm. Easter egg hunt, pictures with Easter Bunny & lunch. The egg hunt is for children 12 yrs. old and under. Please call 776-2635 ext. 106 to RSVP by March 30th.
Easter Eggspress Train Ride at the Kentucky Railway Museum at 1:00pm (lasting for about 90-minutes) *Reservations Recommended.
Middletown Egg Hunt– Egg hunt at 1pm. Also, they will have a market.
Create a Bunny Box at Cabela's – 1 – 4pm. Free, while supplies last.
April 1
Easter Sunday Brunch at Fort Knox Saber & Quill 10am – 2pm. Experience an elegant and delicious Easter buffet brunch
Easter Sunday Buffet & Giant Egg Hunt at Joe Huber's. Easter buffet is served all day, from 11am – 6pm, and the egg hunt begins at noon. Reservations strongly recommended by calling 812-923-5255.
Easter Brunch Cruise on the Belle of Louisville 1 – 3pm. The bunny will be on board to add to the children's delight as we take a two-hour cruise on the Ohio River. A scrumptious brunch buffet is included, and music from a DJ will round out the day!