Mother/Daughter Things to Do around Louisville, KY and Southern Indiana
Mother Daughter fun is abundant in Louisville! Here is a list of ideas for enjoying time together.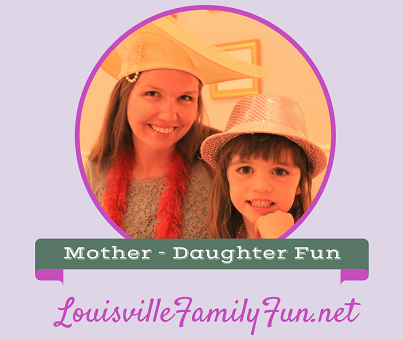 Are you looking for something special to do to bond with your daughter? Here are some ideas for things to do with your daughter so you can spend a special day together.
Cook together: While you can definitely come up with some fun recipes to cook at home there are also some places to go that can help you learn to cook new foods while working together. For mother daughter cooking fun Check out Mesa Kids Cooking School and Turnip the Beat for class information!
Spa Day/Tea Time: Check out Amazon for some fun mani/pedi kits to use at home or head out on the town for some Mommy and Me time. Q Nails or Nail Therapy and Sisters Tea Parlor are a few ideas to get you started.
Library learning: Spend some time together picking out books to read together or enjoy one of the numerous classes/events that are held at  Louisville Free Public Library branches as well as libraries in surrounding counties.
Craft classes: Whether you want to learn to paint, sew, or loom, you can find a class or event that will help! Side by Side Studios has open play, paint at Whet Your Palette, learn to weave at The Littleloom House, or build at The Home Depot Kids' Workshop.
Jump around: There are lots of options around town to move and you can go during toddler time or after school. House of Boom, Skyzone, and Altitude Trampoline Park are some fun places to try.
Go to a show: Get dressed up and head to Kentucky Center for the Arts, Actor's Theater, Derby Dinner Playhouse, or Iroquois Amphitheater or check out your local high school and enjoy one of their performances!
Visit a park: Louisville has loads of wonderful parks all around town that make for a great place to spend a day full of mother daughter fun. Pack up a picnic and head out to explore, hike, or just play on the playground. Iroquois Park, Bernheim Forest, The Parklands, and Jefferson Memorial Forest are just a few ideas.
Local history: This area offers plenty of opportunities to learn including: Locust Grove, Riverside The Farnsley-Moremen Landing, Frazier History Museum, Speed Art Museum, and the Kentucky Derby Museum.
Indoor fun: If it's rainy or hot there are plenty of fun things to do inside. Dart Rush, Malibu Jacks, Main Event, Xscape Theatre, Kazoing, Kentucky Science Center, or All About Kids are just a few!
Day at home: Sometimes it's nice to not think about the laundry and don't worry about how dirty the house is and just spend some quality time at home with the kids. Have fun with board games, make a box fort, cook some brownies or cookies, or just read a favorite book together.
Need more ideas? Find an upcoming event or festival that you both would like and head out for fun. See our calendar here. 
By guest contributor: Kelly