Apple Picking around Louisville
Apple Picking! Here are a few places you can go to pick-your-own apples.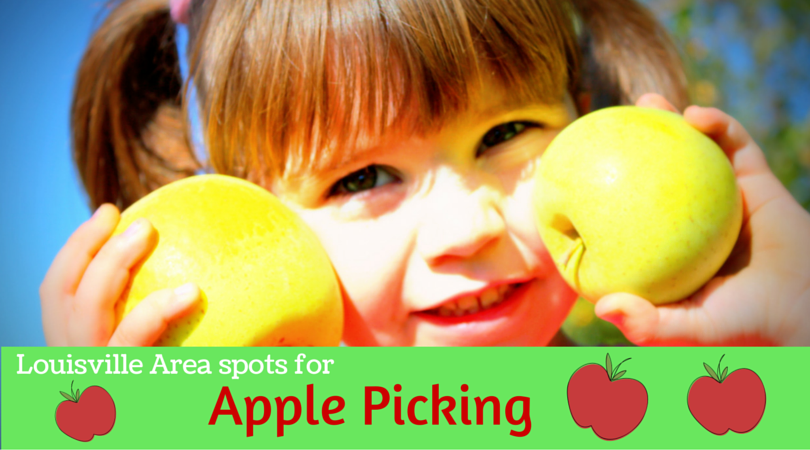 Apple picking is so much fun. Bring bug spray! And, have your recipes ready because you will surely go home with plenty. 
Hidden Hollow Orchard right here in Louisville is also a good place to visit. Check their
website for updates – Apple pickin will start on Aug 24 and last until the apples are all picked.
Huber's Orchard & Winery has a large variety of apples for picking plus tons of fun!
Joe Huber's Farm in Starlight, IN is a great place to pick some apples. Take a tractor ride to the orchard and have your pick of apples.
Gallrein Farms is just east in Shelby County and they have season fruit to pick. Check their farm schedule and call ahead to see if apples are ready!
Eckerts Orchards is just a short drive down I-64 in Versailles. Here's their schedule for crops so you plan accordingly. They have picking and all sorts of fun events and festivals for the fall.  They also offer fun for the whole family. Kids pick for free days Aug 17 & 18 2019.
(They harvest their own apples, not a u-pick site…………yet) but Mulberry Orchard in Shelby County is a great place to visit with families!
Here's another great post from Oldham Family Fun that has even more ideas & details including some farm markets to get local apples!
And what to do with all these apples? Turn them into an apple crisp, apple butter, apple pie, applesauce, dry the apples, make caramel apples and then decorate them with dried fruit and candy to make them look like jack-o-lanterns. One of my favorite recipe sites is allrecipes.com and they have a great recipe for slow cooker apple butter that can also be frozen to be used later. Hidden Hollow Orchard website also has several apple recipes. So many options you may want to try out both orchards so you can enjoy the apple goodies.
Looking for more food-related family fun? Click here.