Charlestown State Park and the Historical Rose Island Amusement Park
Family hikes at Charlestown State Park to Historical Rose Island Amusement Park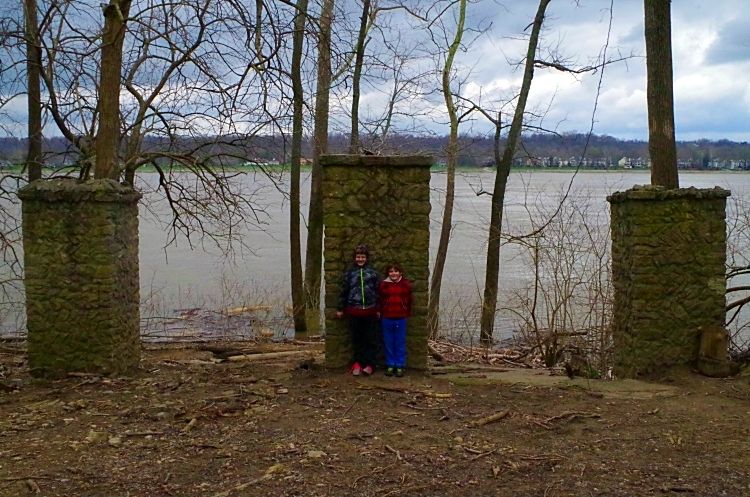 I grew up a river rat in a Prospect neighborhood called Cardinal Harbour. Everyone had boats and canoes, and some of my earliest memories were of going out on the sail boat on the weekends. As I got older I started hearing rumors about an amusement park right across the river from my neighborhood. You couldn't go over there at the time because the land was owned by the Indiana Army Ammunition Plant, but eventually the plant left and the land was given to Charlestown State Park.
About ten years ago a local man made a documentary about the place and the rumor mill fired back up. The documentary can be purchased locally at Schimpff's Confectionery. A friend canoed over there and took pictures- the swimming pool had become a rectangular pond but was still very visible. It was only accessible by boat until last fall, when Charlestown State Park put in a bridge, completed an archaeological survey, and opened it up to visitors.
Since then it has been in the back of my mind to go find this place I had found so captivating. There's almost no information online about how to get there, so we loaded up the car and went exploring. Even Google maps doesn't work very well over there- we drove around the park for about 45 minutes before we finally found the trail head. To get there, you will need to set your GPS to Charlestown State Park. It costs $7 per car to get in typically, though the day we went there was no one there to collect the money and no drop box. I would imagine it's seasonal. Take a right once you're inside the park and look for the parking lot for trails 3 and 4. You will take trail 3 to trail 7, which will lead you across the new bridge and right into the Rose Island Amusement Park. The hike is mostly paved, but there is a 70 foot elevation drop, making the hike moderately difficult. You *could* take a stroller or wagon, though the steep hills and shear drops into deep water would certainly make me think twice, especially if your stroller doesn't have a tether. This is not a hike for the very young or the very old or anyone out of shape. It's probably over 3 miles with sections of very steep grade, so make sure you are well-prepared for it.
There are also no facilities in this park. I saw one outhouse/latrine while we were driving around for 45 minutes and picnic tables with a charcoal grill. Presumably there are restrooms in the camping area because I saw water towers, but there were none near the trail head. This place is out in the middle of nowhere, so take snacks and water and plan to carry your garbage out with you.
Once you hike a mile down a 70 foot elevation drop, you will cross 14 Mile Creek on a brand new bridge and be greeted by a replica of the old Rose Island Amusement Park sign, where you can read about the history of the park. David Rose opened the complex in 1923 with a hotel, swimming pool, wooden roller coaster, ferris wheel, and pony rides. It was a popular destination for people who lived in the area. You could come across a rope bridge on the Indiana side, take a ferry from the Northern part of Oldham County, or the steamboat Idlewild from Downtown Louisville (now the Belle of Louisville). There were cottages and hotel rooms for rent for guests who wanted to vacation there- the steamboat ride could take 2 hours each way. It was a popular place until the 1937 flood washed most of it away.
Today there are markers for the 1937 flood all over the site. There are signs throughout explaining different parts of the ruins, and hand-cranked speakers also help to tell the story. My kids really loved those. Once we made it down to the river bank and I pointed out grandpa's house, the kids got really excited. They hadn't understood where we were until they saw grandpa's house across the river. "You mean I'm on the island I've always wanted to go to?!" my 8 year-old exclaimed. They were just as excited to explore this piece of local history as I was.
On the way back to the car we saw a juvenile snake on the road and a flock of enormous wild turkeys. Hiking out is much harder than hiking in because it's such a steep grade. But it's well worth the time to learn about this piece of local history that was almost completely lost to the 1937 flood.
Find more hiking locations here.
By Guest Contributor: Maggie