Where can you go for Pumpkin Patches, Corn Mazes, Hayrides and Fall Farm Fun around Louisville ?
Are you looking for pumpkin patches and picking, hay rides, corn mazes, and family fun at a farm this fall? All of the things you are looking for are right here in the Louisville metro area – all over Kentuckiana!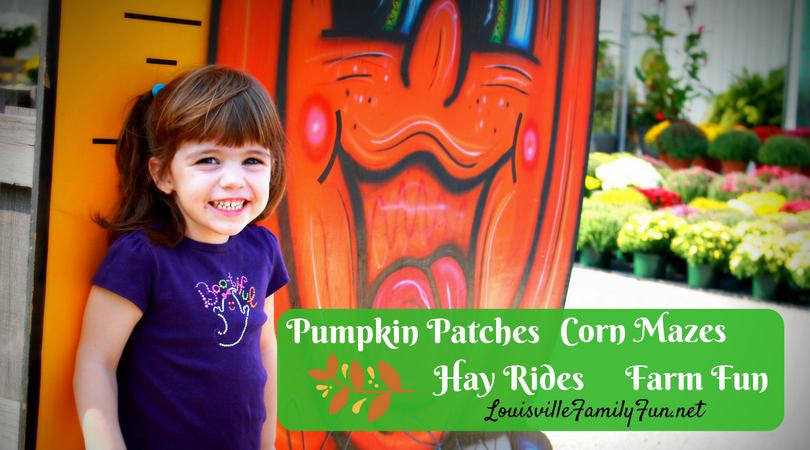 Here's a list of fall fun places! When you start searching for fall fun, let us be your hub for ideas for your family.
Fall is such a great time to spend your time outside. And, what better way to do it than with quintessential fall fun like heading to the local pumpkin patches? Of course, make sure to check their websites or call for hours and pricing – some are open all week, others just on weekends.
Thank you to our sponsor
Even better, many have things that are free. But don't forget, when you get there each place might have things that require additional fees.
For 2020, things might be a bit different. We will do our best to keep you updates. We absolutely recommend you check with these places for the most current info before you go drive there!
Southern Indiana:
Joe Huber's – known for pumpkin picking and family activities. They also have a great restaurant. Opens 9/12 for pumpkin picking.
Huber's Orchard and Winery – known for pumpkin picking and family activities. Homemade ice cream and a wonderful farm market. Wine/distilled spirits as well.
Farm Life – corn maze, pumpkin patch and more
---
Louisville
---
Oldham/ Shelby / Bullitt County and beyond
Evans Orchard – farm play area, pumpkin picking, market, corn maze and more.
Foxhollow Farm – corn maze (sometimes) and pumpkins
Gallrein Farms – hayrides out to pumpkin patches, straw pyramid for fun climbing, farm store, petting zoo, pony rides
Historic Slow Poke Farm – pick your own pumpkins, hayrides, farm animals, bonfires and more
Mulberry Orchard – hayrides, pumpkin patch, kids play area, corn maze and more. Opens 9/19 for hayrides etc. HALLOWEEN Saturday 9-4 (closing early). Costumes are welcome and we'll have treats for the kiddos. $20 All You Can Carry pumpkin sale Saturday 10/31.
Click here for the Oldham list.
---
If you are looking to make a day trip out to exploring for fall fun, here are some ideas that might be just a little bit further away but do make for a perfect day trip. Many of these places have so much to do, you can spend your entire day there. When you visit these places, share some photos with us on Facebook or twitter so we can see how much fun you had!
Beyond
Thomas Dairy Farm & Market – Pumpkin patches, market, play area, corn maze, night-time fun maze
Boyd Orchards – farm store, corn mazes, pumpkin patches, hayrides and family fun area
Bray Orchards – market and pumpkins
Hinton's Orchard – pumpkins, corn maze, farm market and more
Happy Jack's Pumpkin Farm – corn mazes, hay rides, pumpkin picking
Morgan's Run – Click for review – hayride, corn maze, pumpkins, play! (no longer open)
If you are ready for fall, take a day trip for pumpkin picking and corn mazes for getting lost in fall fun. Happy Fall!
Click here for more fall fun ideas!