15 Spring Break Destinations within 3 Hours of Louisville
Spring Break close to Louisville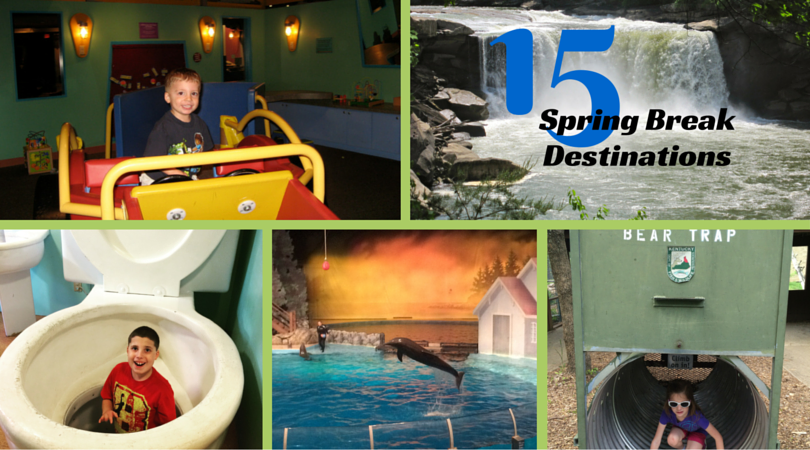 We found things to do and places to go within a short drive of Louisville. Whether you're looking for a day trip or a multi-day getaway, we've got you covered!
Are you looking for spring break close to Louisville? You don't have to travel 10+ hours to a beach to have a fun Spring Break. Some of these places make for a great day trip and others can be a short overnight adventure. There are many places for spring break within driving distance from Louisville.
This is our annual post for spring break close to Louisville. Please check with these places to see if things have changed like hours, prices etc.
1 – 2 hours from Louisville
1. Columbus, IN – Columbus boasts a children's museum called KidsCommons. See our review here. Across from the museum you'll find The Commons which includes a fun indoor playground. Just down the street there is a great historic ice cream parlor called Zaharakos! If you like to ride, bring your bikes. There is a 55 mile bike trail that begins in Columbus. It's highly rated in Bicycling magazine. For more time in the great outdoors, visit nearby Brown County State Park. There is hiking, fishing and more! You can camp out or stay in a neat lodge or cabin nearby.
2. Newport, KY and the Greater Cincinnati, OH area – There are plenty of family-friendly hotels in all price ranges. For entertainment, start by visiting the Newport Aquarium and Newport on the Levee. If the weather is nice, cross over the Ohio River on the pedestrian bridge. Check out the Cincinnati Museum Center in historic Union Terminal. It boasts three museums and an OMNIMAX Theatre! For the parents, take a side trip to IKEA in nearby West Chester. For a big surprise, stay a couple of days at Great Wolf Lodge in Mason, KY. The rooms have fun themes and there is a huge indoor water park which makes for a fun spring break close to Louisville!
3. Frankfort, KY – For the animal lover, visit Salato Wildlife Education Center. Enjoy at sweet treat and learn something new at Rebecca Ruth Candy Tours and Museum. Get a glimpse into the history of bourbon in Kentucky, by taking The Trace Tour at Buffalo Trace Distillery. This tour is fun and educational for all ages. Walk through Josephine Sculpture Park – read more here. And, kids can enjoy a delicious sample of root beer at the conclusion of the tour. There are also many historical sites to visit in Frankfort!
4. Lexington, KY – Tuesday – Sunday, visit Explorium; a children's museum. See our review here. Of course, no trip to Lexington is complete without a visit to the Kentucky Horse Park! Review here. Want to see more horses? The Spring Meet at Keeneland begins on Friday, 4/7. For more great ideas, visit our friend's site, LexFun4Kids.
5. Indianapolis, IN – My top pick for Indy is the Children's Museum of Indianapolis. The place is huge and you can easily spend an entire day there. Check out the Sports Legend Experience! Read our review. Also, The Indianapolis Zoo is a fun place to visit on a sunny spring day. They even have a dolphin show! Have a racing fan in the family? A visit to the Indianapolis Motor Speedway and the Hall of Fame Museum is a must do! Check out Indy With Kids for lots of ideas for spring break close to Louisville.
6. Natural Bridge State Park (KY) – Red River Gorge is a really fun area for families and has become increasingly popular during the pandemic. Read our post about tips for visiting Red River Gorge. A haven for those who enjoy hiking and breathtaking views. There is a skylift that operates beginning in early April. Call to verify dates. You can opt to take a day trip, camp out, stay in a cottage or in the lodge. Read our post about Red River Gorge.
7. Cave City/Horse Cave/Mammoth Cave (KY) – Travel South down I-65 and you'll find an area with some fun, unexpected opportunities. Dinosaur World and Kentucky Down Under Adventure Zoo are two unique attractions that are sure to please the kids. You can read our review here. Of course, the main feature of this area is Mammoth Cave National Park, reviewed here. There are cave tours of various lengths and difficulty to meet the needs of different ages and abilities. We are so lucky to have this as an option for spring break close to Louisville.
8. French Lick, IN – Two historic hotels, French Lick Springs and West Baden Springs offer a variety of fun Spring Break activities for families. One of our writers visited last year. You can read her review here. Another option in town is Big Splash Adventure, an indoor waterpark and hotel. Check out our review.
9. Clifty Falls State Park (IN) – Have a fun camping adventure and enjoy hiking all around this state park. Depending on recent precipitation, you may see the waterfalls flowing. We have a review here. Take some time to visit historic Madison, IN while in the area. See suggestions here.
10. Patoka Lake (IN) – This state park boasts opportunities for boating, waterskiing, archery, hunting, disc golf and more! It's near French Lick (#8 on our list) so you can potentially enjoy both in one trip.
11. Bowling Green, KY – Check out the National Corvette Museum, take boat tour (water-level permitting) or explore the grounds around Lost River Cave, or visit the Historic RailPark and Train Museum. Consider combining a trip to Bowling Green with any or all of the activities listed in #7 on our list. Read more suggestions here.
2 – 3 hours from Louisville
12. Nashville, TN – Kids always love the opportunity to swim when it's not quite warm enough outside. And, you can enjoy SoundWaves at Opryland which is kind of like an indoor oasis/beach! While in Nashville, stay in a comfy hotel with an indoor pool. Visit the Nashville Zoo (review here), Adventure Science Center, explore unique city parks and check out Opry-Mills Mall. Read our getaway review for more ideas on spring break close to Louisville.
13. Cumberland Falls State Park (KY) – This state park is famous for being one of only 2 places in the world to see a moonbow! A moonbow is only visible in the falls at night during a full moon. Even if your Spring Break doesn't coincide with a full moon, this park still has much to offer for spring break close to Louisville. Hiking, fishing and camping are popular activities here. If you're not into tent camping, you can opt for a cabin or a room in the lodge. Read our review here.
14. Carter Caves State Park (KY) – This state park offers several overnight options, ranging from primitive camping to a room in a fieldstone lodge. In addition to cave tours, Carter Caves offers hiking, rappelling, canoeing, a gemstone mining flume, horseback riding and more!
15. John James Audubon State Park (KY) – This state park has a primitive camping area with shower houses/restrooms and a playground. There are also a handful of cottages available. A museum and nature center are also on site. Other available activities include fishing, hiking and a 9 hole golf course.
Some of the reviews linked within this article are a few years old. Please call or check the direct website of any place you plan to visit to verify hours and details.
If travel does not fit into your plans, check out our other Spring links for local ideas and Spring Break camps.