An All Day Trip to the Kentucky State Fair (Review #3)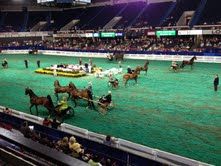 My family and I spent ALL day at the Kentucky State Fair. We started
at the World's Championship Horse Show at 9am. The upper level seats
were free, but the floor level had a cost (the free entry is only on
certain days). My kids enjoyed watching several classes compete. They
liked that each competition started with younger kids (we saw kids as
young as 8), then teens, then adults. We saw regular riders
(saddlebred) and horses pulling carts (pleasure riding). My kids loved
to pick out which horses they liked the best, which riders they thought
looked the best, and which would be the winners. It helped to explain
what the judges were looking for, and what would get them better
marks. The loud speaker voice was very clear, and the competition for
each class was just short enough to hold my kids' attention. My kids
really enjoyed cheering the winners on as they took their winning lap
around the arena, and we loved hearing where all of the different
riders had come from. The show attracts riders from all across the
country and even internationally (we saw someone from South Africa!)
with more than 2,000 horses competing for over $1 million in awards.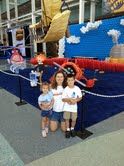 After we had our fill of horses, we headed throughout the fair grounds
enjoying freebies from each booth, getting health checks, looking at
submitted entries for art, baking, and everything else under the sun,
we looked at all the animals in their pens, and of course, tasted the
food. I particularly liked the deep fried Girl Scout Cookies! We also
enjoyed many of the shows.
My daughter's favorite was JUMP! The Ultimate Dog Challenge. My kids
loved watching the dogs jump, catch frisbees, walk on two legs, jump
rope, and a whole bunch of other tricks. Their favorite was watching
the dogs jump over 52″ high pole. There was audience participation,
and I liked that the host emphasized adopting from shelters and said
all of the dogs in his show were rescued.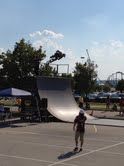 We ended the day with my
son's favorite show, the BMX Pros Trick Team show. With tricks and
stunts by bicyclists and a skate boarder, it looked like the guys
could defy gravity and break the laws of physics. My son can't wait to
try and ride his bike up a ramp and try to flip it up side down in the
air. The whole show was less than a 30 minutes, but due to sitting on
bleachers out in the full sun, that was fine with us. After a long
day, we decided it was well worth the fatigue. We had a great time at the Kentucky State Fair, and we can't wait to
go back again next year!
By guest contributor: Caryn