Mommy and Me: Spas and Nail Salons in Louisville, KY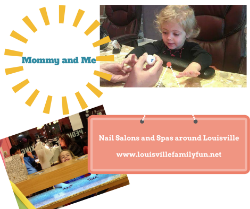 A reader asks: My sweet daughter has been waiting for her 5th birthday to get her nails painted. Are there any nail salons in Louisville that cater to little girls? So we asked readers to help us out on Facebook, here are some of your ideas:
JC Nails 4155 Shelbyville Road 502-896-0931
Signature Nails in Northeast Louisville has the pink bear chair 12907 Factory Lane 502-243-1599
Luxe Nail Bar on 805 Blankenbaker Pkwy works with kids..my 3 yr old loves going with me 502-245-8882
First Lady Nails Spa in Holiday Manor off Brownsboro Rd has little chairs and has kid sized pedicure chairs (and diff price for children), but not sure about their manicures. They have two kids chairs that are shaped like hearts. So cute! We go there all the time! 502-327-8681
I have taken my 8 year old to the Venetian Nails & Spa in The Paddock Shops. It wasn't specifically a kids place, but they did great with her. I am thinking it was at a reduced price of $7.00. They don't deal with the cuticles (just a basically a polish, but my daughter thought it was great). 502-412-2100
I have heard a lot of good things about Karma Nails & Spa on Dixie. I think they have a website with their prices listed and even have a "kids price list". 9208 Dixie Highway 502-935-5161
I take my daughter to the Pro Nails nail salon in Oxmoor Mall by Sears. They are great with her.:) 502-425-6880
Adore Salon & Spa – Just took a 5 year and two 4 year olds and they were great with them. The girls had a great time and the staff loved catering to the little ones. 119 S. English Station Rd 502-709-5164
Q Nails in Springhurst across from Dick's has 2 pedicure/kids chairs for littles complete with personal dvd players 3580 Springhurst Blvd 502-423-2277
Check out sassybunch.com– party packs for nails and facials for little girls! This is an "at home" package and the girls just love having a friend or more over to have a "spa" day or night! Keeps them busy together for hours.
Another reader said check out alldolledupmobilespa.com
Do you have any others to add, tell us in a comment!