18 Free/Cheap Fun Ideas for Spring Break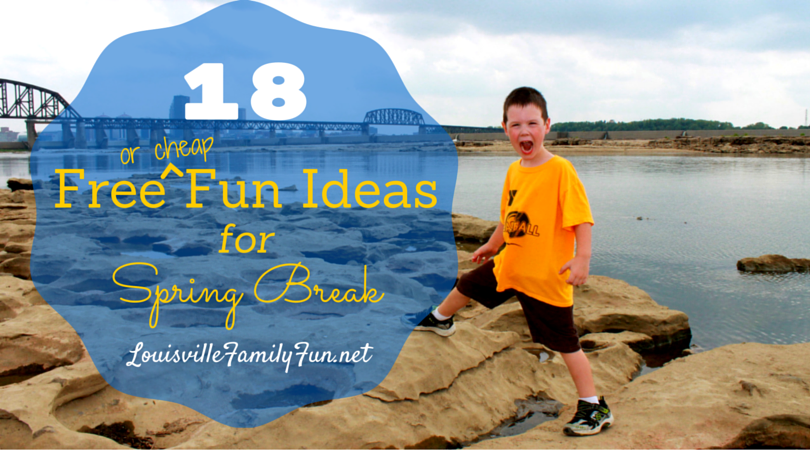 Outside Louisville


La Grange, KY

Clarksville, IN
The Falls of the Ohio State Park is located on the banks of the Ohio River in Clarksville, Indiana at I-65, exit 0. The 390-million-year-old fossil beds are among the largest, naturally exposed, Devonian fossil beds in the world. The park features a spectacular Interpretive Center overlooking the fossil beds containing an exhibit gallery and video presentation.
Shelbyville, KY
Perfect Timing Alpacas offer "recreational" alpaca farm tours for those wanting to bring their family to Perfect Timing Alpacas, as well as large group alpaca farm tours. Make sure to call us on our cell phone at 270-945-1818 for tour rates and to schedule your appointment as drop in visitors are difficult to accommodate! Here's a groupon deal!
Frankfort, KY
Head to Rebecca Ruth's and see where the world famous Bourbon Chocolates is born. This unique confectionery operation is known worldwide as "The Inventor of Bourbon Candy!," and is located in historic downtown Frankfort, KY – just a stone's throw from the Kentucky state capitol building. Take a tour and sample some yummy candy! $5.00 Per Person, Children 5 & Under are free. Guided tours are Monday – Saturday 10:00 AM – 12:00 PM & 1:00 PM – 5:30 PM.
Salato Wildlife Education Center has something for the entire family! See native wildlife up close and personal along our accessible exhibit trails, bring a lunch and have a picnic, go fishing at one of our fully stocked lakes, or take a hike on the HabiTrek or Pea Ridge Trails! You'll have fun, and you'll learn something, too! Adult: $4, Youth (5-18): $2, Under 5 is free!
Lexington, KY
The Kentucky Children's Garden is a safe 1.85 acre outdoor learning environment designed to help children 2-10 years old discover plants and the environment. There's an integrated combination of various "child-scaled" theme gardens and garden-like elements for experiential play: gardens planted and maintained by children, a small amphitheater for presentations, interactive educational exhibits, inter-connecting paths and comfortable benches. $10 for a family of 5. Closed on Mondays and Tuesdays.
At the Kentucky Horse Park meet Thoroughbred legends at the Hall of Champions, see interesting breeds at the Breeds Barn Show or head out for a walking barn tour to meet our police horses, see our blacksmith facility and explore a kids' barn with stories and activities perfect for young visitors. Some of the attractions are pricey so make sure to stick with the free ones!
Tour the Toyota Plant. It's for kids who are in first grade or above and they have tram tours and interactive features that kids will love.
Clermont, KY
Bernheim Arboretum and Research Forest has lots of classes and trails to explore. It is free Monday-Friday and only $5 for passenger cars, minivans, and motorcycles on the weekend.
Hodgenville, KY
Visit Abraham Lincoln's Birthplace. Begin your journey at the Visitor Center and view the Bible that belonged to his father and mother, Thomas and Nancy Lincoln, watch a 15 minute video about his early years, and follow the "Pathway of a President" plus lots more. Here's a day trip idea!
Louisville Area
Take a walk over the Big 4 Bridge and bring a picnic to share with your family and friends. This is a fun and cheap way to spend a beautiful spring day. Splurge a bit and rent a bike or have lunch/dinner at one of the yummy restaurants in Jeffersonville!
Your Neighborhood Library has loads of fun to explore during Spring Break! Find more information here about classes being held near you.
Parklands of Floyds Fork, Iroquois Park, and Cherokee park are just a few of the great parks within Louisville that have loads of fun ready to be found within!
Be brave and take a trip to the Extreme Park downtown! The Louisville Extreme Park is one of the nation's best skate parks, with awesome features, including a 24 foot full-pipe! The park offers a great balance of street-style, transition style and vert.
Get your exercise on the Louisville Loop. The Louisville Loop is an estimated 100-mile trail system that will eventually encircle the city and link existing and new parks and neighborhoods to civic attractions, transportation alternative and recreation opportunities.
The Farnsley-Moremen Landing is part of Louisville Metro Parks and so rich in local history. They do have special events that are fun but they are also open to the pubic so you can explore and learn over spring break. Great picnic spot too. The original home is there and very interesting as well as active archaeological digs going on to learn more about the people that have lived on that site. There's a family rate of $15 so you won't be spending a ton if you have a big family, otherwise – the individual fees are very reasonable too.
Download a map and explore Cave Hill Cemetery. It is known for its exquisite collection of monumental art, many examples of which are over 150 years old. Additionally, the property includes a variety of historic structures, from the Administration Office to the Board Room to the three and half miles of brick and stone wall that encircle the perimeter.
Museum of American Printing House for the Blind offers free self-guided visits to the museum which allows visitors to explore at their pace. Those who want to see the factory in action and learn more about how products are made may take a guided tour that combines braille and audio book production with the museum visit.
Take some time together and volunteer. Click here for some ideas on where to go.
Be sure to keep tabs on our Spring Fun links for even MORE ideas!